In the last article, we have made clear that if we expect growth of a financial asset, we enter to a long position.
Today's article will be about volatility.
What is volatility?
Volatility is the financial instrument price fluctuation. For example, the volatility of the EURUSD forex pair may be 90 pips, which means that the price ranged 90 pips from high to low. Big volatility has its advantages as well as disadvantages.
Let's look at the basic aspects of volatility, how to look at it and how to work with it.
How to apply it in your daily trading?
A trading day on the stock exchange consists of several so-called world-time seasons. See the picture bellow.
As you can see, at 7:00 AM opens London session and at 12:00 opens American session. At 21:00 the Sydney Stock Exchange opens and Tokyo opens at 23:00.
Note that in some time zones, for example from 12:00 to 15:00, two stock exchanges are open simultaneously, both in London and New York.
During these three hours, volatility will increase, and markets will tend to make bigger moves.
Many retailers trade their favourite financial instrument within this time because the instrument is traded by many traders at the same time, and that gives the market necessary dynamics and strength to move.
We'll explain this in the following chart:
Let´s choose the American Dow Jones index.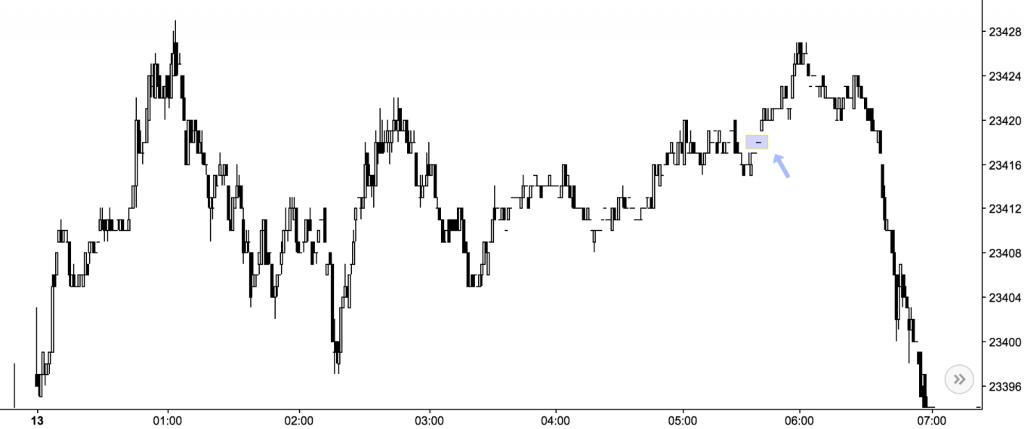 Note the place with the arrow, the graph shows 1-minute timeframe. Even this can be a classic minute candle. It's just a dot which is hardly visible. Minute when there was no movement. A minute when no trader was active.
Other candles indicate some activity, but you can still see that there is missing volatility at the market. There are no traders in the market who would be interested in trading.
It should be added that this is what the market looks like at 1-minute chart, at a higher timeframe, for example 5 or 15 minutes, the market looks in the same way as we know it. The candles are full and long, the market is swinging.
If you trade financial instrument outside the main trading hours, you will experience very low to zero volatility.
The trading hours of American YM (Dow Jones) are within the whole trading session. It starts at 12:00 and ends at 20:00, so everyone, not only in Americans, trades this instrument exclusively at this time.
How to use volatility?
For example, if you are going to trade currency pairs, you will find that some pairs have higher volatility during the day (the range from low to high on a given day) and for example, the EURUSD currency pair has an average volatility of 77 pips in the last 10 weeks. This means that if you come to the market at 11:00 A.M. and the market had been ranging within 30 pips, it will be rather dead, and big moves will probably not come.
Average volatility in the last 10 weeks on forex.
You can really get a lot of information from this table. For example, the average daily spread / fluctuation (yes, volatility) of the GBP / NZD market was 205 pips. That means really big moves.
The market in 3 hours and 40 minutes has made a movement of more than 105 pips, that's really a big move. This is the GBP/NZD market.
This way you can proceed in choosing your favourite forex market. When selecting the market, we should consider not only the spread but also the volatility of the market. The bigger movement is, the better chance to make more money.
If you know the average volatility of your market, you can also better estimate what is ahead or vice versa, whether the market has lost its strength or not.
There are advantages and disadvantages
High volatility brings bigger profits, but also greater risks, because we need to take higher risk. The market naturally moves in swings, and if the volatility is increased, the swing range is larger. The market needs to breathe, so it is necessary to have a larger SL.
Fundamental reports affect volatility. If you are trading a few hours ahead of significant fundamental news, you may experience very low volatility. Traders are not active, market is uncertain about the results of fundamentals. As soon as the results of the news are known, the emotions of larger players – investors, funds and the big influx of money makes usually the biggest movements on the market.