In addition to our AOS series, we have decided that to make a series that will give you complete basics of the trading. With the increasing number of visitors, also the number of newcomers is raising, so we've decided to update our site and give them insight into trading from a complete beginning.
You will encounter several chart display options in the default settings of the platforms that are used for trading on the financial markets.
In this article, we'll take a look at the candle chart.
The graph consists of individual candles that are eithergrowing or declining. Growing candles have white colour and are called bull candles, so growing markets are also called bull markets. Declining markets are called bearish and the candles are black.
As you can see, the candle charts are very clear, the graph is well arranged
What does single candles present?
For a better explanation, imagine one-hour chart:
High: Highest price achieved over a given period (time frame)
Open: Opening price at the beginning of a given period (e.g. 9:00).
Close: Last price at the end of the period (until 9:59).
Low Price: The lowest price that was reached in the given period.
The candle chart has many benefits, especially the visual one, so you can better orient and analyse the chart.
The main benefits of the candle chart
Below you can see the chart view displayed in three different ways. The blue line shows the "Line" mode, a chart above is called "Bars" and then the one you know, the classic one is called "Candles" or candle chart.
Which one is more clear?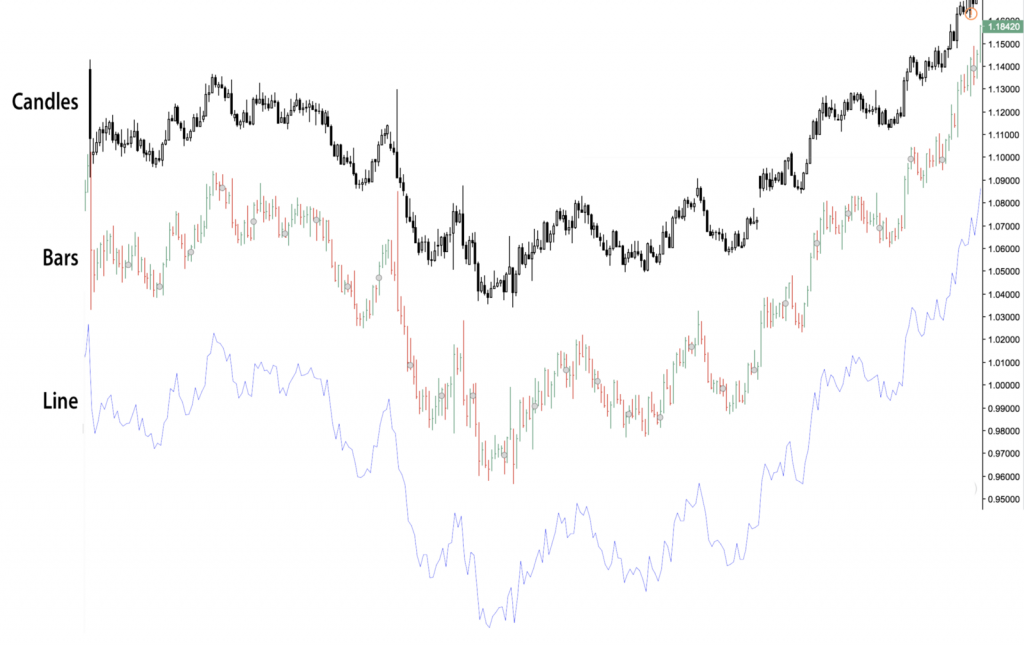 If we consider purely visual side, someone can prefer the "Line" view because you only see development and do not care about what was going on meanwhile.
If you see the Candles or Bars chart, you see a lot more.
You may well recognize the impacts of the fundamental news. Candles with a large knot and a long body indicates high activity of the traders.
You can see that the graphic style of Bars and Candles is more or less identical, but candles are beautifully filled compare to Bars and this also has the fundamental advantage as we can recognize plenty of candle shapes, from pinbars, dojo, hammers and many more.
A trading method based purely on candle formations is called the price action and it includes also the indicators.
StrategyQuant, a program which is designed to create automated strategies, also works with candle formation, so if you have a candle based strategy in mind, you can test it and see its profitability and robustness.
In the next article, we will deal with another important aspect: the correct understanding of a downtrend and the uptrend.