Those who are following my posts probably noticed that I have skipped two Mondays and I haven't been writing for that time. Do not worry, I did not forget about you, I just took my planned holiday. I have my wife and son, his name is Thomas and he's 15 months old. I have decided that I will take care only about my family and I will deal only with the most urgent things via Skype.
Let's go to the point. In this article, I have decided to turn away from the current series and I want to look at two things – how a trader actually works on vacation and then I have one big news that emerged last week. I'll leave it at the end of the article and I am sure you will be interested.
How does a trader works on vacation?
Many traders have a beautiful, romantic idea of ​​how they work with laptop on the beach. Something like that:
I had the same idea at the beginning. Yeah, naive youth beginnings (I was 19). I tried it once, but you cannot concentrate when the beauty of sea, palms, and sun is around you … This is nothing for me. Then I tried it in the garden on my hammock. However few flies learned about it. Subsequently, they broadcasted the message to the other flies and at few minutes later also to mosquitoes. It took about half an hour and the message spreaded throughout the insect empire, and I run back to my comfortable office.
How to enjoy your holiday as a trader?
Over time, I have realized one thing. It is better to keep the charm of those moments when we are on the beach, on vacation, etc. To keep the moments when nothing disturbs us. Take time with your family, your children, your friends … It took some time to learn this, but on holidays I am just checking positions and I recommend you the same. Sure, it is something if you trade commodity spreads like Elena, then it takes you 5 minutes a day. But if you do intraday trading or you spend a couple of hours a day developing strategies, rather take a break on vacation and just check your account. We have only one life and you need to enjoy it. I'm young, this year I was 30, but you never know what can happen …
Meanwhile, the profits we have achieved
During my holiday, we have earned 2.18% on our $10k real testing account, including open positions. Maybe you think it's not so much, but it's two weeks, a very short time.
Since the beginning of the year we have gained 20%. The goal of this portfolio is to earn 30% a year, we did 50% last year, so in two years it is + 70%, this is a great result and our goal for two years is more than done.
Check out the result for this year: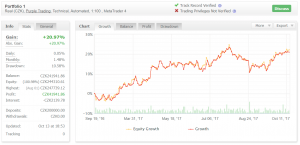 And now the big news you cannot miss!
While checking the articles of my colleagues, and I came across to one really exceptional! Do you know what was so cool there?
Pavel improved his report and released the first one for free.
We were discussing this for a long time, and on Monday 9.10. we have released the first report in a new format. The original report was a PDF with a lot of information. The format has changed – now you get a video with an even bigger amount of information and the old familiar PDF. We have very positive feedback on the new format, and if you have not seen it so far, you should look at it! It's not just about when and where to enter, it's about why we do things we do. The signals themselves are useless if a trader does not receive something more than a entry signal, but here you get a lot of information from an experienced team and thanks to this you will get can get really advanced with your trading.