Dear Readers and Traders, today I'll summarize what happened to the natural gas market in the previous and current week, and how it looks like in our account which was affected by increased volatility. We'll focus on the roll over of the options positions as well as a development of the pair trade-ETF (dual short) linked to natural gas.
Summary of the week
From the beginning of a last week until this Tuesday we have seen slightly increased realized volatility on the natural gas. It was good mainly from the short DGAZ vs. short UGAZ strategy point of view, but as the gas price drop has occurred, our short call options on BOIL were also revived.
Last week we also rolled our positions. We rolled strikes 26 and 27 horizontally, so we kept the strike and only prolonged maturity. In case of 26 call options we received another 70 cents of credit for the August maturity, while on strike 27 we got another 57 cents per option. We rolled the options with strike 28 to the July expiration with the shift of 1 point higher, and we got a credit of 25 cents per option.
A good thing is that although we are rolling the positions, still there is quite interesting premium. At strike 27 we were able to take nearly 2% credit premium in just one month. A negative of that state is, of course, a fact that the gas price still trends against us, which does not allow us to roll at the money options where we would have been realized much higher premiums.
A pair trade
Let's talk for a while about our pair trade, and update the chart that was presented in the previous lesson. I showed you there that based on the inefficiency of pair multiplying there is a decrease of values of leveraged ETF, both long and short.
Due to the fact that between 13-17.6. a volatility on gas was pretty strong (there were a daily price fluctuations even of 2%), there was a significant growth of inefficiencies coming from daily multiplication of leveraged movements. While the price of natural gas measured by the ETF:UNG from 4.6. changed only by -0,08%, the price of 3x long natural gas ETF:UGAZ fell by -1,30% and the price of 3x short natural gas ETF:DGAZ also dropped, by -0,52%. The short of both instruments generated from 4.6.2018 around 68 EUR profit.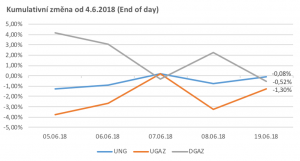 More information, including an enclosed bank statement (in pdf – Portfolio Analysis), you can find after login to your client's account right here on the server Quastic. If you still do not have your login, just put your email here in the box below.