IPO
Last year's IPO of Snapchat was one of the most followed in the world. The issue price was $ 17, trading on the first day began with a huge investor interest growing up to $ 24. Now these stocks can be bought at half price.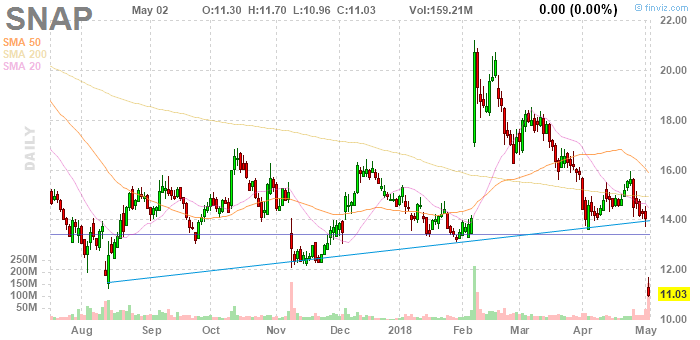 Fall
A few days ago, the stock price lost one fifth of the price in one day. What happened? Just one bad quarter. I can remember how Kyle Jenner (the US TV star) in February broke the stock by 6% by a single tweet. She said the new app was awful and that she is not going to use Snapchat any more. There's something about it. Because I do not use Snapchat myself, I have asked a few adolescents in my neighbourhood about their opinion, the majority responded that the new application is really terrible, and they have stopped using Snapchat.
At that time, the financial impact of Snapchat's redesign was not yet known. The financial impact has turned out to be fully visible now and the impact on stock prices can be seen on the top chart.
The cleaned economic result was at the level of analysts' estimates, sales (which are very difficult to be cleaned) were 5.5% below expectations, and the number of users was growing. Additionally, the company has warned in advance that redesign will reduce revenue from advertising in the future.
Decline of active users
This chart (DAU – Daily active user) is very bad, especially with the above mentioned factors: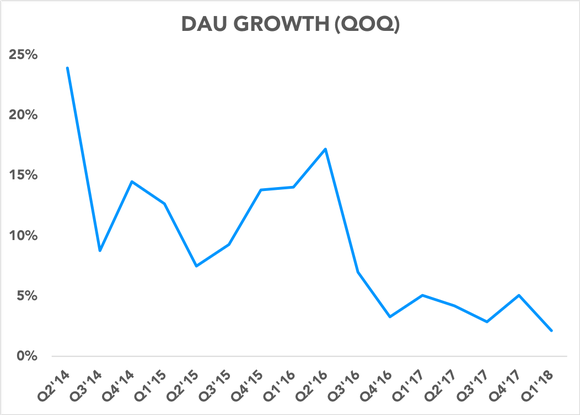 This means that the number of active clients has practically stopped growing. That is not affordable. The biggest competitors are Facebook and Google, and their shares on the online advertising market are growing. This means that to the rest of the companies remain less in absolute amounts. For Snapchat, this is not a good perspective.
Conclusion
What can be decisive in this point? New redesign of application and its acceptance. Only its success can lure consumers and then increase advertising revenue. Invest reasonably, not emotionally.