January is here. The year 2017 has just finished and we are the beginning of 2018. This year will be the breaking one and I'm very curious what it will bring us. I was off during Christmas, so our blog had a shorter break as well.
This year, we are celebrating ten years since the big financial crisis that had started by the fall of Lehman Brothers in 2008. More specifically, it was its strong accelerator, not that it would set off the crises by itself. But we'll talk about this some other time.
In this article, I do not want to talk about how this year will be, but about how the last year was. We will look back in this article and review the year 2017.
Financial markets in 2017
In 2017, there were several major events.
The S&P500 index grew almost linearly by 20%.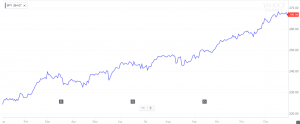 Bitcoin grew enormously, then entered the futures market and began to fall slowly.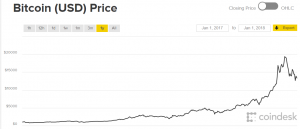 Forex has noted very low volatility throughout the entire market.
In this environment, trading was demanding. I do not trade Bitcoin because I am not able to determine its real value, as it is not supported by anything real, the volatility of VIX has fallen so steeply that there has been very little entry opportunity and trading has been hard on forex. At the end, it was a year with a profit, and I am very happy for it. A well-diversified portfolio paid off here.
Business in 2017
As some of you know, I'm not only a trader. I also enjoy business. There are several reasons. On the one hand, my knowledge of business makes it possible to better understand the stock price, and then I am just enjoying it. Our team has 18 members from 5 countries, and what I enjoy the most – giving people work and freedom. Freedom is what I really like on the stock market. That is why I give the freedom to all members of our team. For example Tomas lives in Malta. Daniel lives in Italy … That's perfect and we have managed to find a team that works very well, that respects its freedom, but does not abuse it.
On the other hand, we did not finish the development of SQ4, unfortunately. StrategyQuant 4 is an application that is unparalleled to others in the world and therefore it is very hard to estimate when everything will be done because we must do everything from zero, there are no libraries or sources where we could be inspired. On the other hand, the key features are finished, and now we're in the phase when we're tuning the speed. I see the release within a maximum of three months very realistically. I promise you to have something to look forward! In addition, this year we will start with a new project that will really help to a lot of traders. I'm looking forward to it.
In 2017, we have also founded Quastic, opened a Hong Kong branch, expanded the Polish branch, and started cooperation in Italy. With Quastic there is still a lot of work to do. However, I promise that it will bring you many things you can really appreciate and look forward.
My personal life in 2017
The biggest change for me was the fact that we have spent our first year with my son Tommy. Before he was born, I had been expecting that everything will change in my personal life. But you know what? Nothing has changed. And I think it in a positive sense. Having a son is like having a hand. You do not think about it, it comes naturally. My attitude to a working life has changed,  I try to work more efficiently so I can spend more time with my family. And that's good. This year, together with my son and my wife Martina, I spent a month on holidays visiting 7 countries (Poland, Germany, the Netherlands, Italy, France, Spain, and Portugal). It's just great to have a family and travel with them, I recommend it to everyone!
I myself visited Japan for the first time in my life, and immediately this country was ranked as a TOP of all countries I have ever visited. It was also great to visit USA, where I and my colleague went through Route 66 in Mustang, which was a great experience.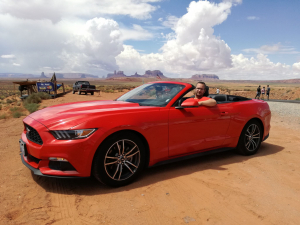 What to say at the end?
The year 2017 was a year of great experiences, awareness, and changes. This year will be a sign of honest work for traders because we want to bring them the best tools and information. I look forward to it and I will keep you updated with the news.
I wish you to be successful in 2018 and fulfill all your dreams! Set your goals,  as Mark Twain said :
The secret of getting ahead is getting started. The secret of getting started is breaking your complex overwhelming tasks into small manageable tasks and starting on the first one.