In the last article, I was describing the steps I did when choosing the bearish spread on corn, from which I have enjoyed a pleasant $ 240. Many of you have asked me, why I entered the market with only one contract. After all, my risk management had to afford me at least two contracts.
You are absolutely right. With respect to my assigned allocation, there was still space for further contracts. Let´s  have a look  at the spread once more and see my entry at 9 cents. Spread underwent a strong correction, and it was not clear at all whether it was going to turn or not.
It is of course easy to understand the chart back in time. Hindsight is 20/20. But everyone who trades in real life, will probably agree that it is not so simple and it is very important to calculate with every possibility. Yes, I could enter directly with three contracts and enjoy a triple profit. But the correction could continue and the spread would drop to 6 cents. It would be certainly pity not to use better prices.
With this type of spread, It is also very important to realize one more thing – the expected growth potential. And here it is not so big. Just look at the Full Carry chart. Growth is not so significant, and at the end, spread tends to move more sideways.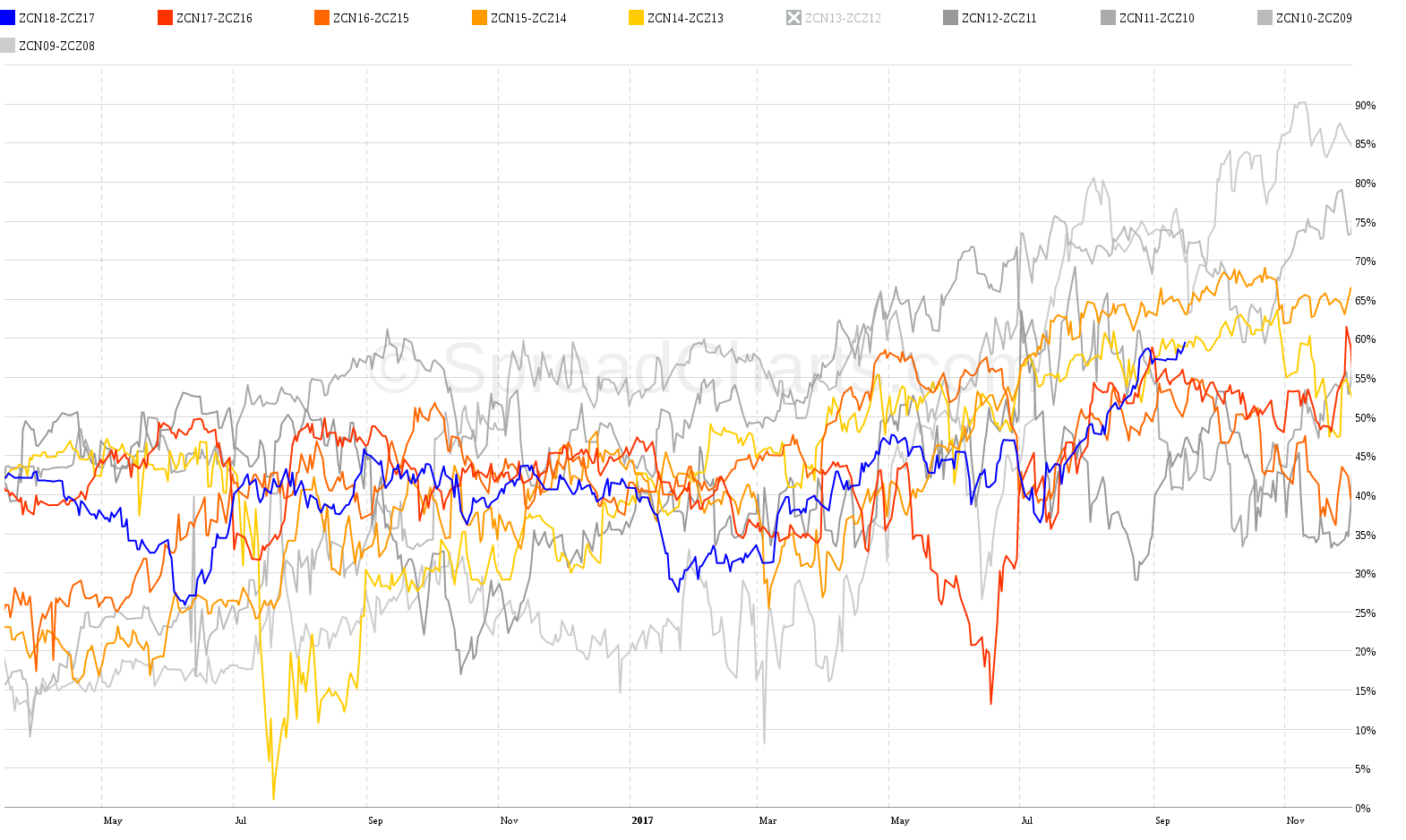 Someone might now ask, why to trade such spreads? Is it worth risking for the correction while expecting a limited profit? It is true that some traders do not even trade this spread because it is not interesting enough. Instead, they will take, for example, more risky intermarket spreads. But on the other hand, the big probability of success is a great advantage with this type of spread.
The secret is in the right entering to the position. A small space for growth brings the necessity to enter the position at the lowest prices, ideally at corrections, just like I did. And if you manage to enter at a good price, then even RRR is very interesting. Certainly, there is no reason to speculate for breaking any resistance levels. Why? Because we have already passed a large part of the movement in this case, and the expected RRR is much worse.
The bad thing about entering at corrections is that we do not know when it will end. That's why I have learned to build my position gradually at lower prices with the expectation of further price fall. I have set three orders at 9, 8 and 6 cents for this spread. In the end, I managed to enter only with one contract, but it does not bother me at all. The trader is certainly more happy with a small profit than with a big loss.
All types of spreads have their advantages and disadvantages. Today, I have told you about one of them, which I personally like to trade because it is often successful. And even though it does not earn such money as the bull spreads, it brings me stable profits in long term perspective. It is just perfect for my accout size.
But it does not mean that a trader with a bigger account who is interested in higher profits can not choose a similar type of spread. He can just choose a wider spread between July-December, where the risk is higher, but the resulting profits are also higher.
Just look at this spread. If such trader would have entered and left at the same level as me (indicated by green lines), his profit would be about $ 450, which is almost twice big as mine. If it is allowed by system, the trader can enter with more contracts and reach even higher earnings. The great thing about commodity spreads is, that we have a lot of opportunities how to trade them.