In the Czech Republic, we can often hear debates about strengthening Czech crown, if it helps or do not help local economy. Exporters prefer weaker crown because they will receive more Czech crowns for each euro. On the other hand, importers like stronger crown, since less crown is needed per one euro.
Japan
If you are a stock investor, you may be interested in shares of companies that produce a large part of the goods in a country where there is a risk of currency weakening, and at the same time they export their products out of the country. A very poor macroeconomic situation suggests that the weakening of the currency threatens Japan. In that case, the economic performance of certain Japanese companies would improve. It would consider that part of Japanese companies that have their production at home and they export  their production.
The second factor is the further development investors are expecting. If investors are convinced that this is mainly a medium-term issue, they will take an advantage of the declining yen to buy Japanese stocks. The weaker they are, the less expensive they are after the dollar conversion. When the yen returns to today's level, investors will earn on the strengthening of yen.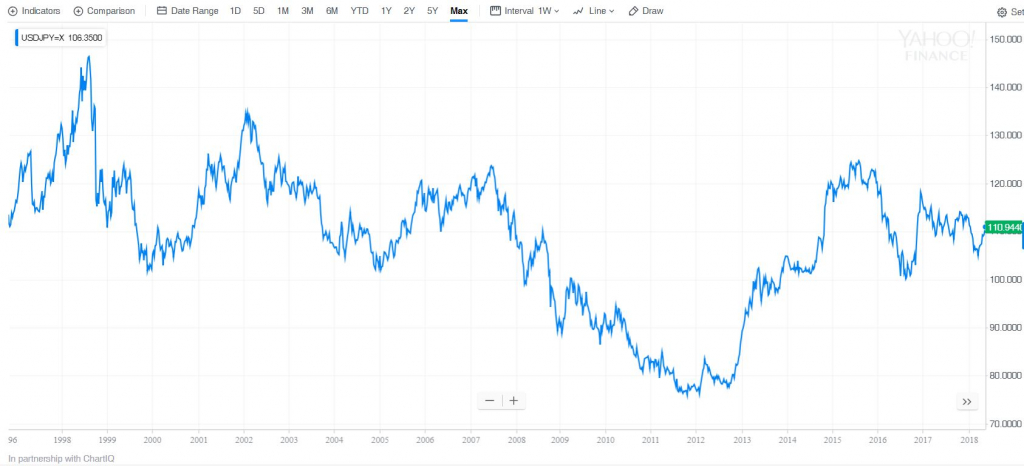 Source: Yahoo finance
It is something similar why the Czech Republic was at one time able to issue bonds with a negative interest rate. Foreign investors speculated on the abolishing of exchange rate interventions at the level of 27 crowns per euro. Investors who bought them at that time paid an interest fee of around 1% pa, but subsequently earned 5-7% on the strengthened crown. In Japan, something similar is possible in the medium term.
ETF alternative
If investors do not want to select Japanese companies directly, they can go for the entire Nikkei index. It can be copied, for example, through the ETF with the HEWJ ticker, which helps to mitigate the currency risk between the dollar and the yen. In that case, we expect yen to get weaker, the currency devaluation and the shares rise, just like in Venezuela recently (an extreme case).
PS: This is not an investment recommendation, invest with reason rather than with emotions