Recently, I wrote about four parts of my portfolio. However, this has changed a lot in a relatively short time and now I am holding only one commodity spread position. It is common that the trades with commodity spreads last for a long time, at least several weeks and even months. Sometimes, however, shorter trades occur because of the rapid movement of the spread or when hitting the stop loss. Today I will show you three already closed spreads, which also represent three different types of trades.
Oil
On the oil I had two bear spreads CLN18-CLM18. Few days ago, I have decided to close this whole position prematurely and with a loss. My stop loss was not hit yet. The reason was a substantial increase in the risk on this occasion in my point of view. Oil, after two weeks of consolidation, broke up and the dollar got downwards under the very important support.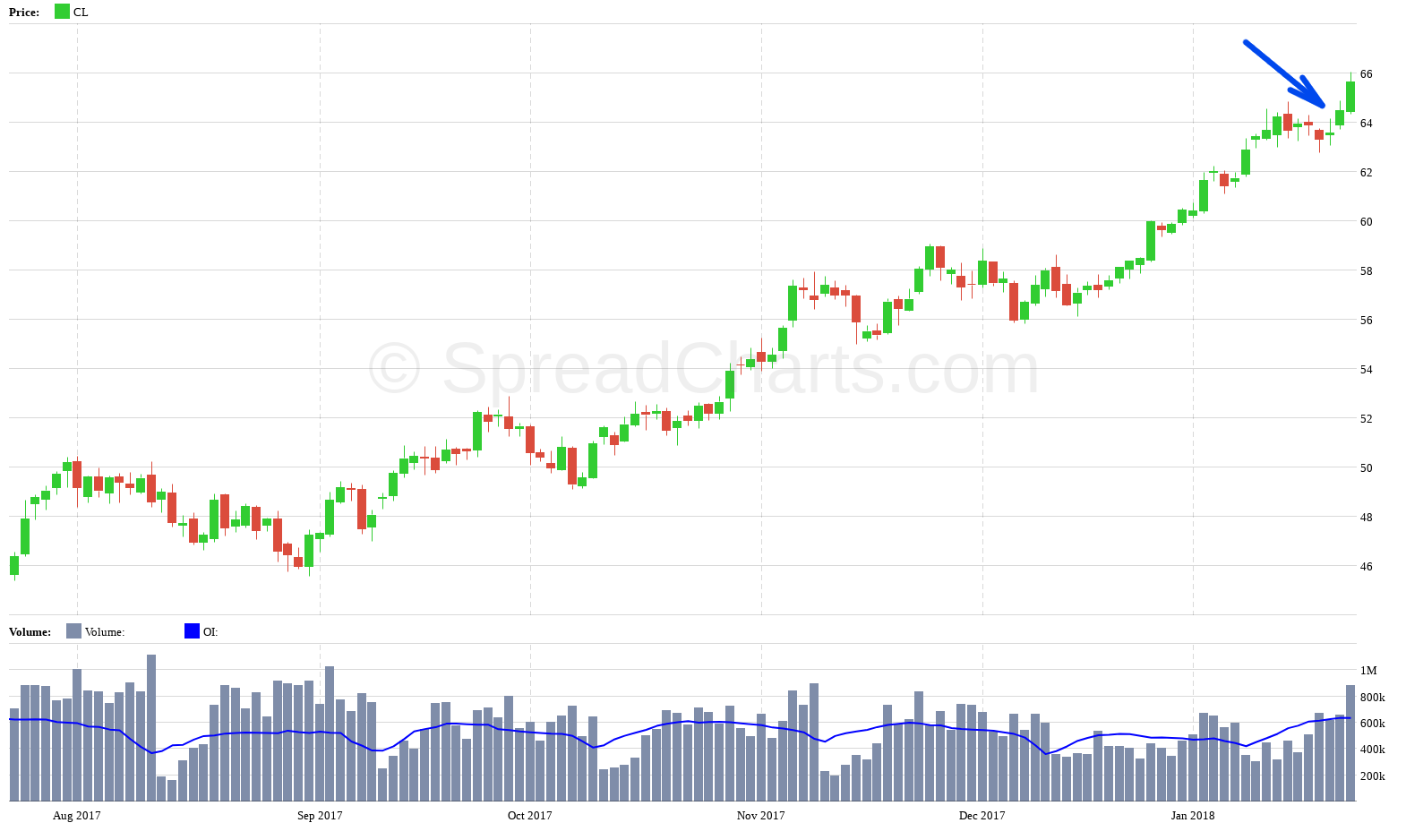 Oil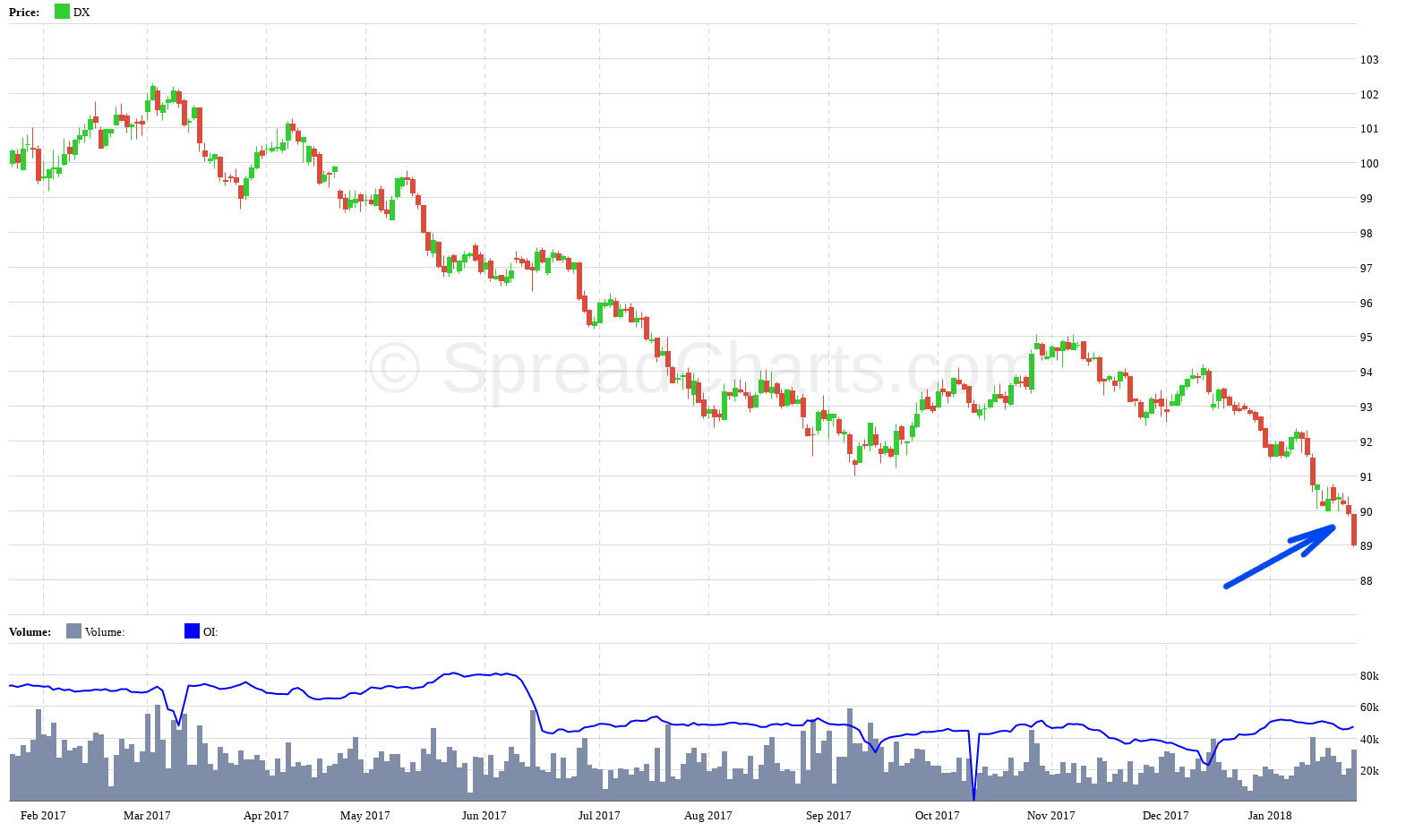 Dollar
And as you can see from the charts, careful check and risk monitoring has paid off again. The next day, there was a significant break, when my stop loss would have been already hit. Premature exit made me less than half loss compared to the stop loss value!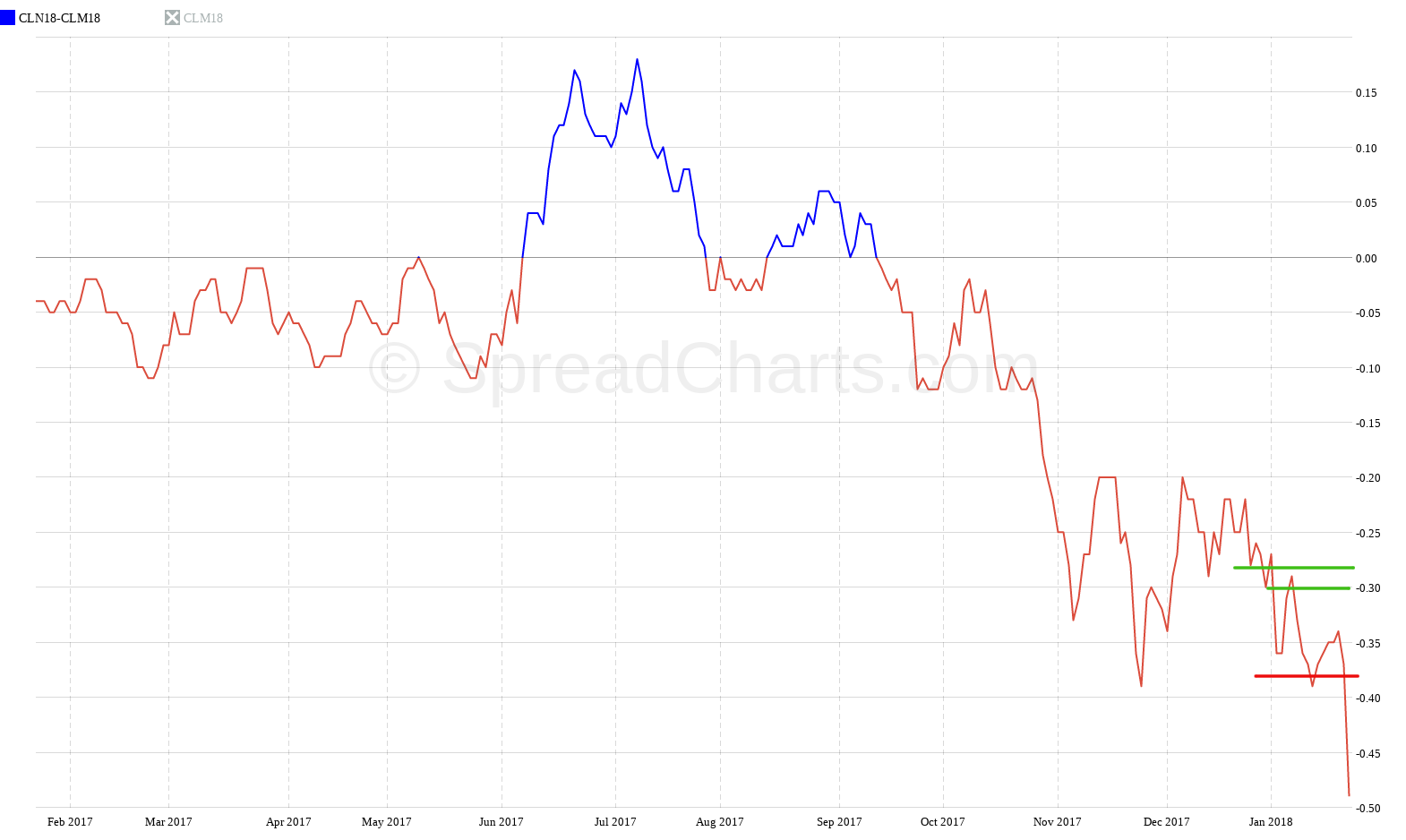 Although I have closed this trade with a loss, I still consider the oil as a great opportunity. All analyzes, except for technical one, continue to indicate close correction. For example, an important intermarket spread between Brent oil and WTI oil, which I often mention here, has made another break down. Only the volume of risk is no longer as favorable as a few weeks ago.
I held my position for about a month. In regard to the given spread, it was rather a short-term trade, which had to be terminated because of the increased risk. If I would have kept the original stop loss, my position would stay only one day longer.
Soybean oil
I wrote about the bear spread ZLZ18-ZLV18 in the last article, so I will not stick too much with it today. I would just add that I have kept the spread for almost two months, so it is possible to say that it was the classic spread trade.
On the other hand, it was not very typical by its behavior. Normally this type of spread does not move so much. It's a rather slow, literally lazy spread without any extra fast and big moves. This year behaves very unusually, so I did not change my set profit target and I stepped out of position.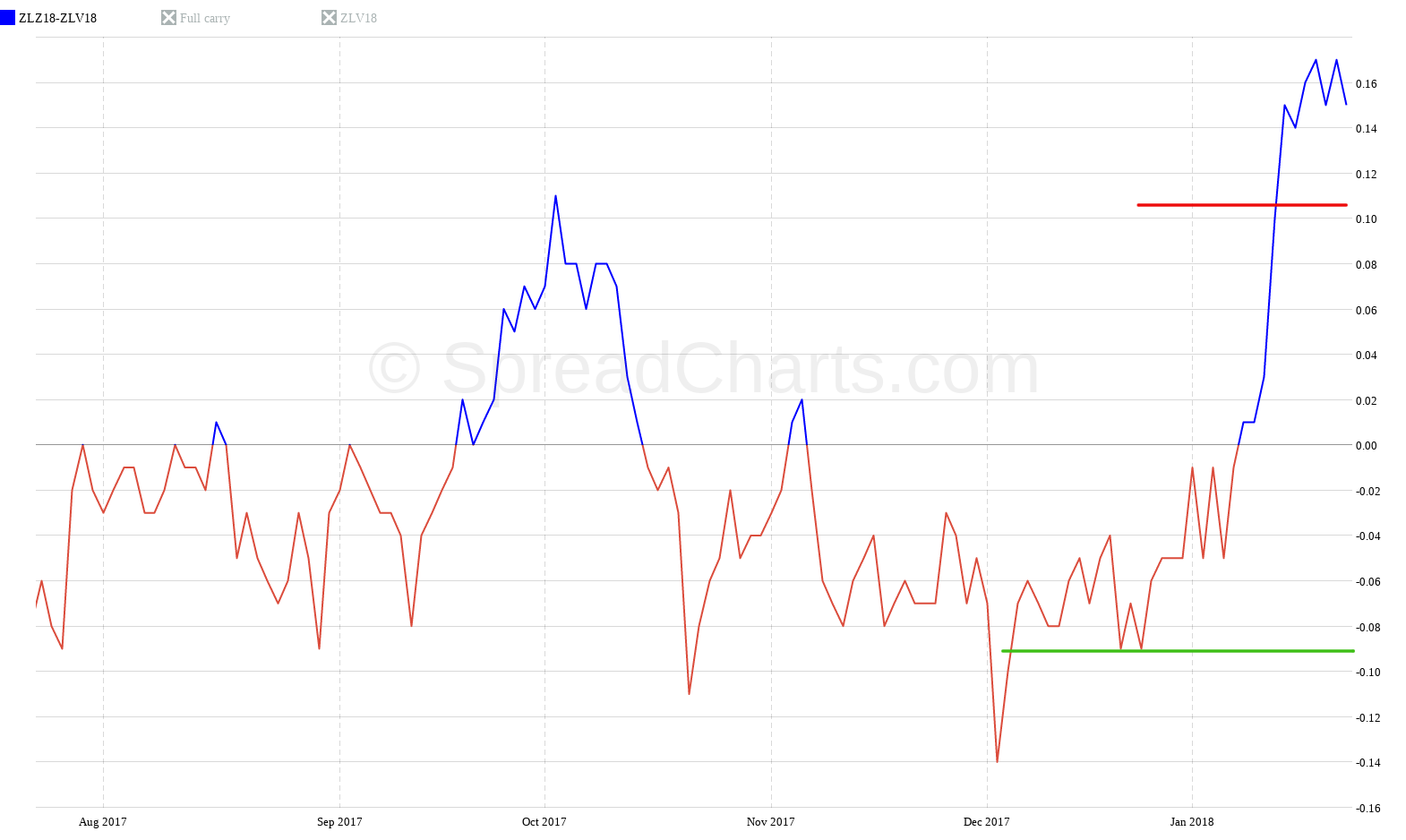 Pork
The last spread I have closed yesterday was the bear spread on pork HEN18-HEM18. I held my position for about three weeks, which I consider to be a fairly rapid "action" for a given spread. Spread reached my target profit target and the trading system spoke clearly – to get out of position.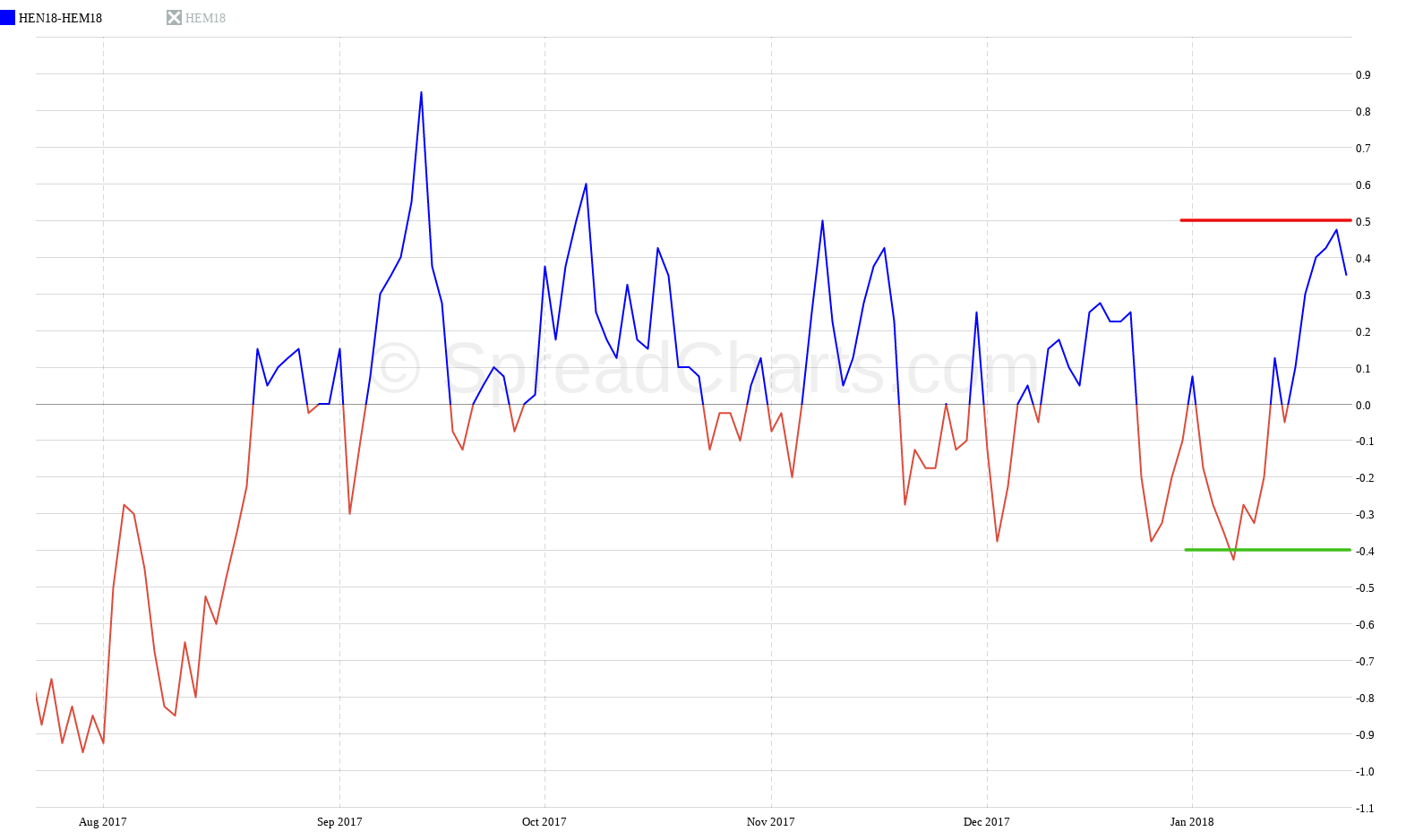 So, my most profitable asset did not disappoint me again. Last year, the pork raised my account for $ 670, and this year it is so far $ 348. I firmly believe it is not all. We have almost whole year ahead and I will definitely go for further gains on pork.

Summary
When I summarize my first three trades of this year, they are basically all unique. Oil was my first loss-making trade, which was also shortened due to the increased risk. Again, it has confirmed that good management is key to long-term profitable trading. We cannot avoid loses. But if a trader can reduce then to an acceptable level, then he has a much easier life because he does not have to catch up with the plan.
Soybean oil was a classic trade in terms of length but with an unconventional process. Here it is necessary to be beware of greed. The trader can be so excited about the movement of the market that he just wants even more. But this amazing situation can very quickly reverse in the opposite direction. Therefore, it is better to step on a set profit target and take what we already have in the pocket.
Bear spread on pork did not disappoint me as always, although it was a relatively short trade. Except the fact that there was not such a sharp move as in the case of the previous bear spread, but this is normal for this particular combination. Considering the fact that the trade was so fast, it is a great result.
So, as you can see, many different types of trades can change in the portfolio in a short time. Therefore, it is essential for the trader to count on every opportunity and to have specific rules in the case of, for example, a sudden change in risk or a sudden change in spread behavior.