I am receiving many questions about my practices, my trading system, etc. and I am very happy because you are inspiring me in writing more articles. 🙂 Today I will try to answer the most frequently asked questions.
How do I choose a specific combination of contracts to build spreads?
Here the market structure is very helpful to me. Because I can find out which combinations of contracts are suitable for bear spreads and which are suitable for bull spreads. Typical examples are lean hogs (pork). The term structure is very wild here, but it helps us to build spreads. However, it is important to note that the term structure displays the structure of the market at a certain point in time. The market structure might be different tomorrow. Therefore, it is good to compare the current term structure with the last one to see if the market is currently at an exceptional moment or not. The SpreadCharts.com application I use shows past term structure, which is great.
The term structure for lean hogs looks very similar in the last months, most expensive months are the summer ones. The main reason is the barbecue season, which increases the demand for meat. Plus, we are already far from the main winter slaughter of pork that brings to the market biggest offer.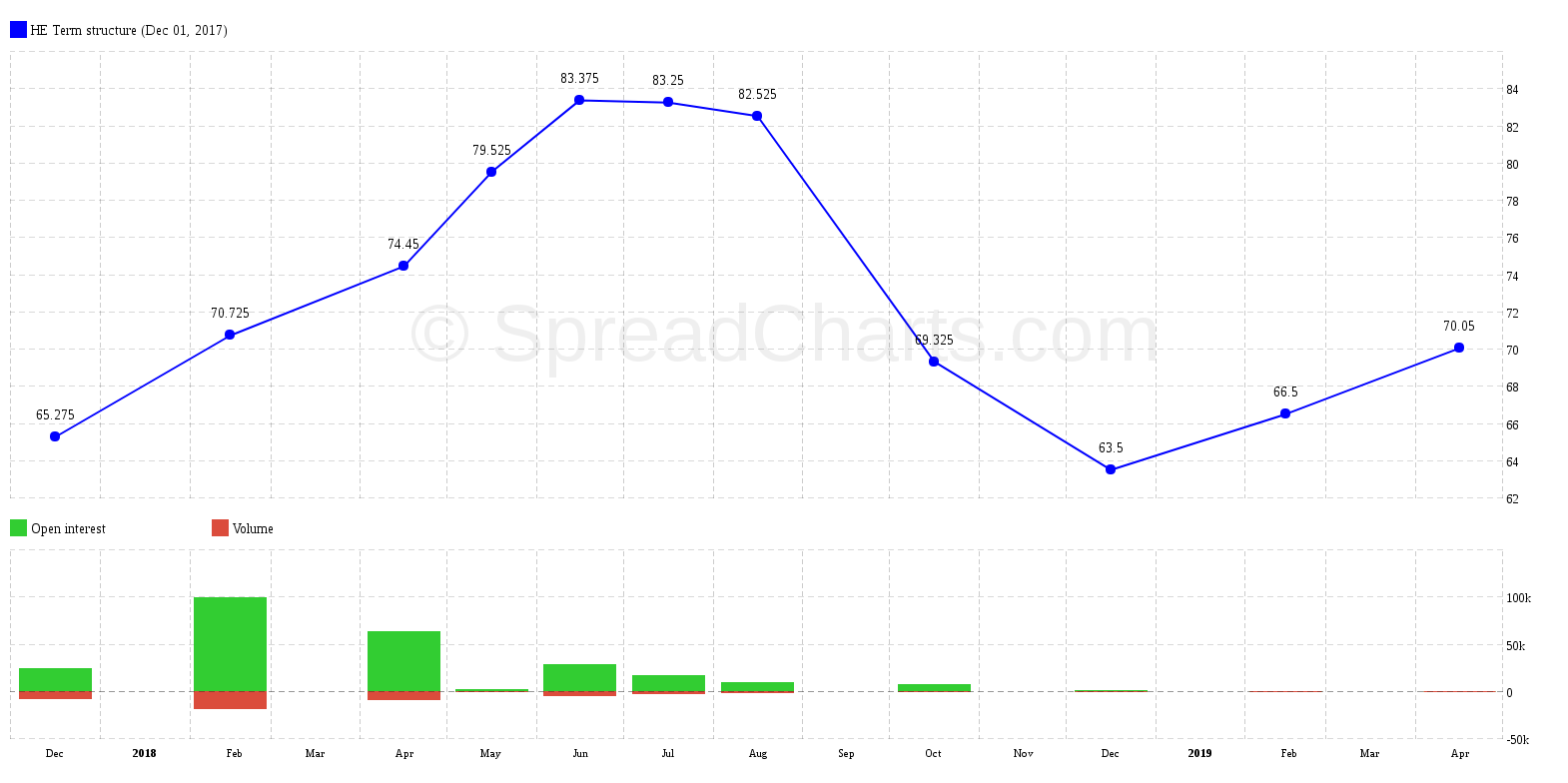 At first glance, we can see that we will build up our bear spreads with expiration from December to June. The reason is contango, which is usually present here, and which is in the case of bear spreads on our side. Of course, with this strategy, we will buy the contracts with a longer expiration and sell the contracts with a closer expiration.
Tailored risk?
It is excellent with the spreads, that we can make our risk tailored. Spread is a combination of contracts, so we have more options. We can choose narrower spreads where risk is usually lower. For the lean hogs mentioned above, we can choose the spread between June and May. Or we can choose a wider spread for example between June-April (my favorite HEM-HEJ spread 🙂). However, wider spread usually brings higher risk.
A trader can, therefore, choose the right spread, which means, of course, with respect to the size of his account and his risk tolerance.
How do I set extremes for COT indicators curves?
This is not so easy to answer. COT is a very specific analysis that can be used differently for different commodities. If you follow our Spread reports, you've probably noticed that I often see the current sentiment in the market as favorable, even when the COT indicator is not at the maximum or the minimum. I often refer to terms like overbought or oversold territory (see picture). In addition, I often combine COT indicators and I am comparing the price response to COT indicator movements in the past.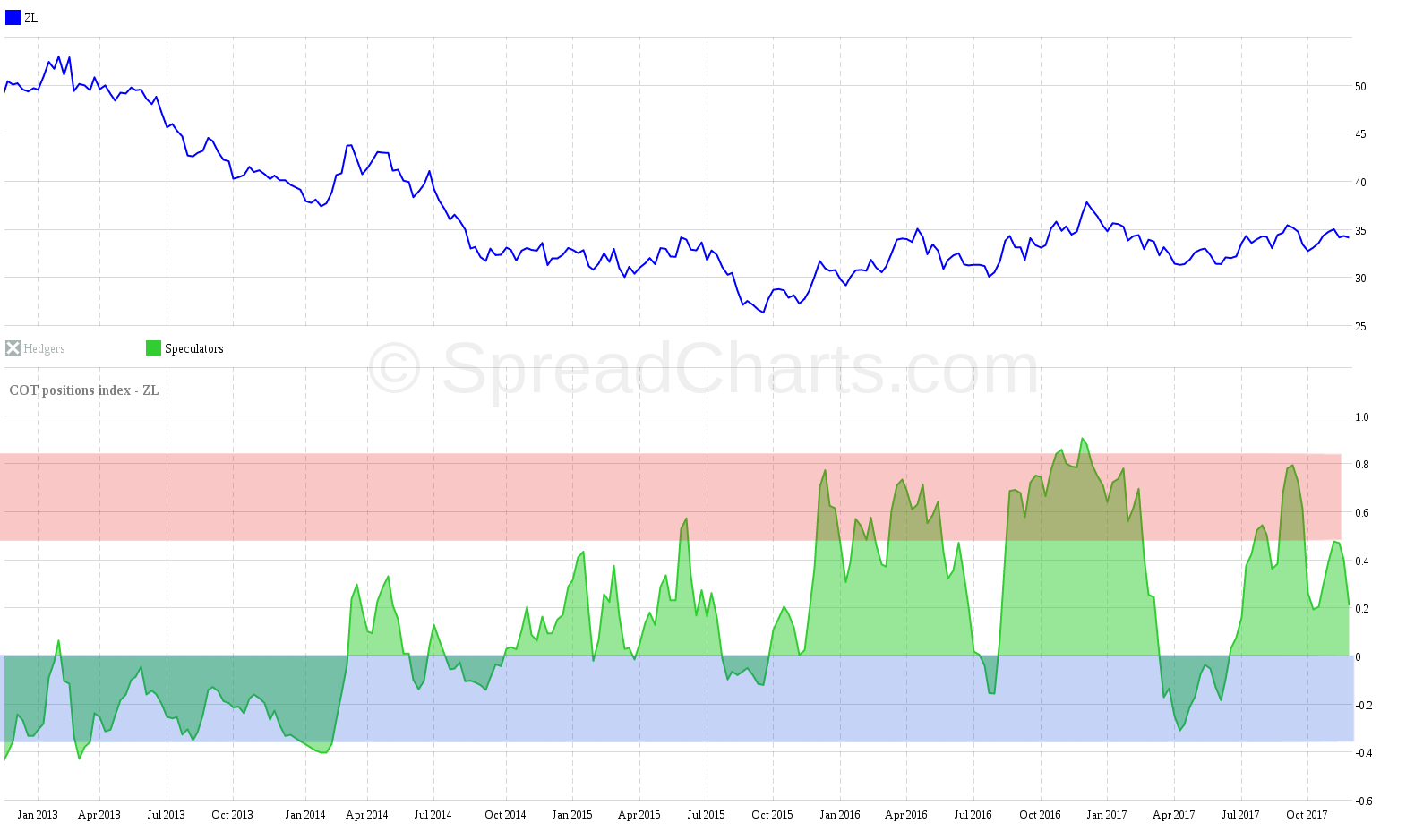 Red Zone – Overbought Territory
Blue area – Oversold territory
What does contango histogram mean?
This was one of the most frequent questions in the last week. I often show a histogram in a spread group on facebook or in articles and I understand that at first glance it may seem very complicated. But the opposite is true. But I will not discuss it today because I am planning to include the histogram in my series about commodity spreads.
I just want to add that the histogram does not represent the individual combinations of F1, F2, … it does not represent still the same expiration months. As time goes on, contracts are gradually expired, and the order of F1, F2, … is gradually changing.
I wish everyone a nice advent time 🙂