In today's part of our series, I would like to basically sum up everything we have discussed so far. We will look in detail at the very popular corn market and the spreads that can be traded here. We will find out which combinations of spreads will be the most advantageous in our case.
Contango histogram
At the beginning of the market analysis, it is advisable to look at the market from a certain distance. By this I mean the contango histogram, where we can see the nature of the market at glance. The first graph shows the contango distribution between the first and second expiration month and the second graph between the second and third month.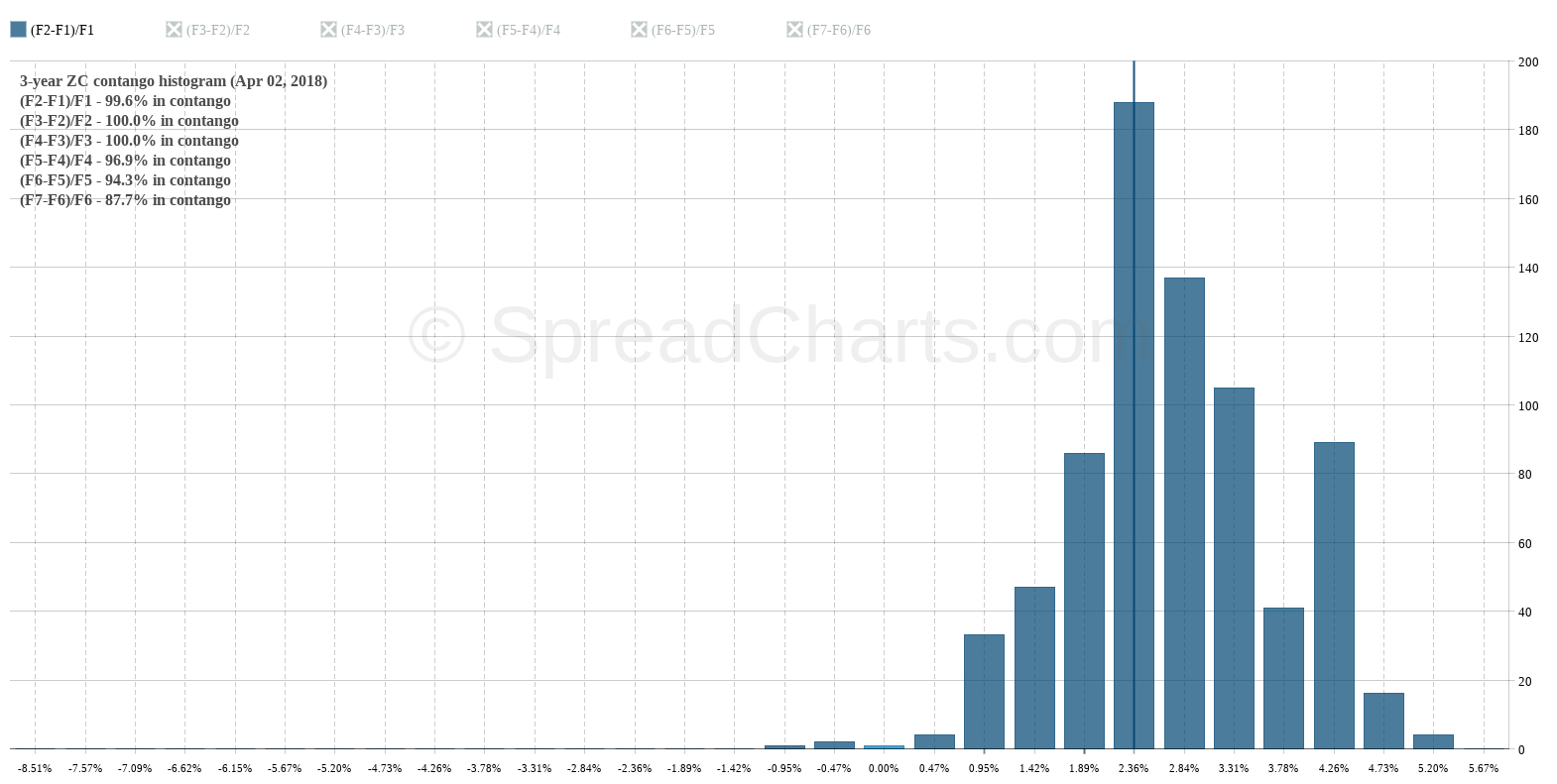 I think it is immediately clear that the market has been in the contango for the last 3 years. We will get this information very clearly from the table at the top left. In this market, the bear spreads will be the surest thing to trade (the reason was described in the previous article).
What spread combination to select?
We already know that there are many ways to combine different expirations when trading interdelivery spreads. However, when considering the success rate and the risk of trade, it is not equal what combinations are we going to select. Here comes to our advice the market reading from term structure. Term structure does not show long-term market development, so we see a slightly different type of information than in the contango histogram.
The term structure can tell us valuable information about the market, which we would otherwise get through a detailed study of supply and demand. Indeed, supply and demand are ultimately reflected in expected prices. Thanks to this, we can observe on the term structure a variety of ripples, switches to backwardation, etc., which in addition have tendency to repeat over the years.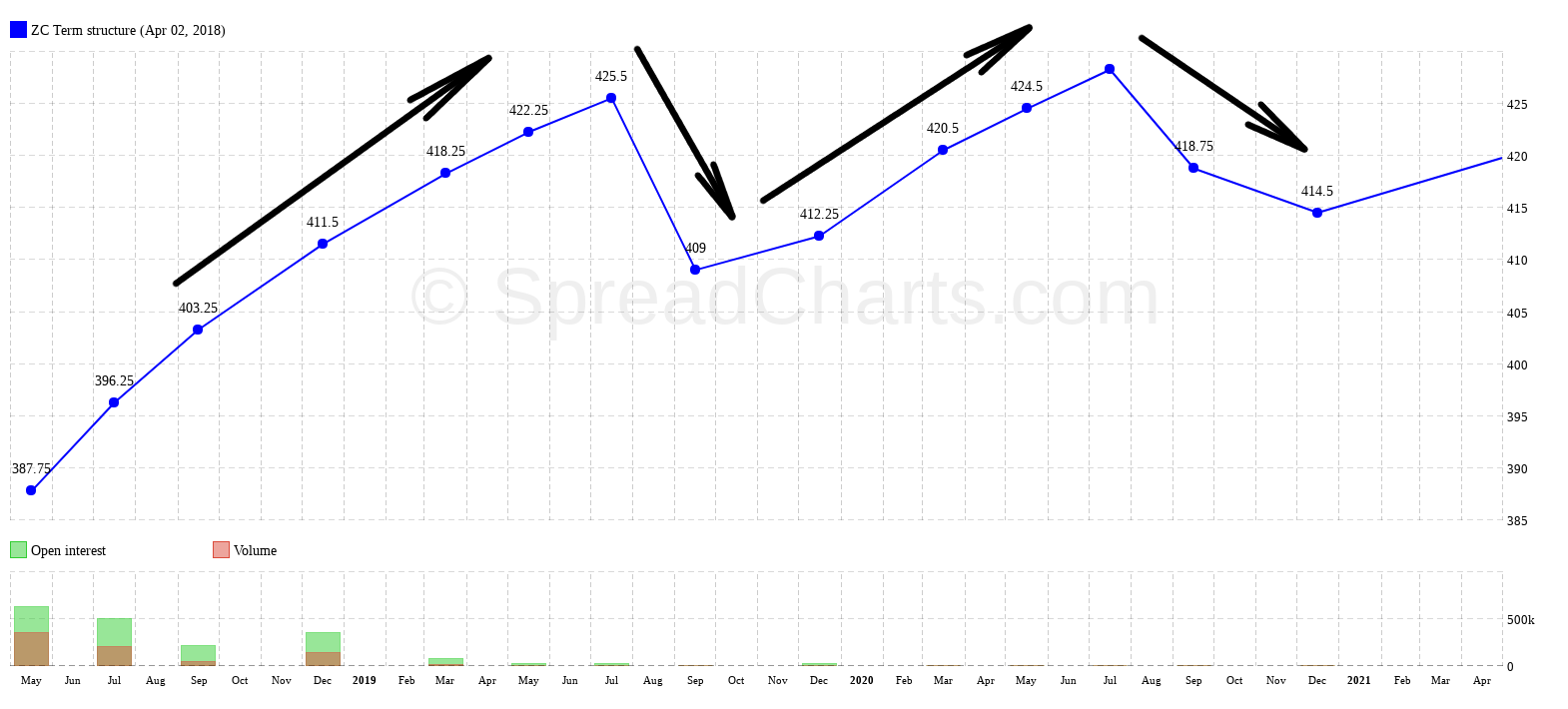 At first glance, there are two peaks where the curve is noticeably broken. Specifically, it is July. September contracts are already at a lower price. The reason is simple. In September, corn harvest begins. The market therefore expects increased bid, which logically pushes the prices down. Term Structure simply tells us which contracts belong to the same harvest. It is December – July of the following year.
Why not September? This contract is generally not very popular due to the risk of mixing two harvests. It is not certain whether the September contract will involve only a new harvest. But in December it is certain that it already belongs to the new harvest. And we also know that July still belongs to the old harvest because there is still no harvest at this time. Now I'm talking about US corn, which has the biggest impact on the futures price.
When I summarize this, we will mainly trade bear spreads on corn. And as we have already explained, bear spreads "like" contango, which we can observe mainly within one harvest. And that's another logical thing. The lowest price is usually after the harvest, when a lot of new corn gets on the market. Gradually, as time goes by, corn supplies are shrinking, and therefore the market expects higher prices. Of course, let's not forget the storage costs, which are also very significant here
Bear spreads will be traded in such a situation when we do not expect any big surprises on the market that would cause a sharp increase in commodity prices. We will rather expect a normal market (ie contango), a fall in commodity prices, or at least a move to the side.
The most popular and most liquid bear spread on corn is July-December (currently ZCN19-ZCZ18). This defines that it is a contract within one harvest. From the analysis of storage costs, there is a growing tendency of spread at first glance.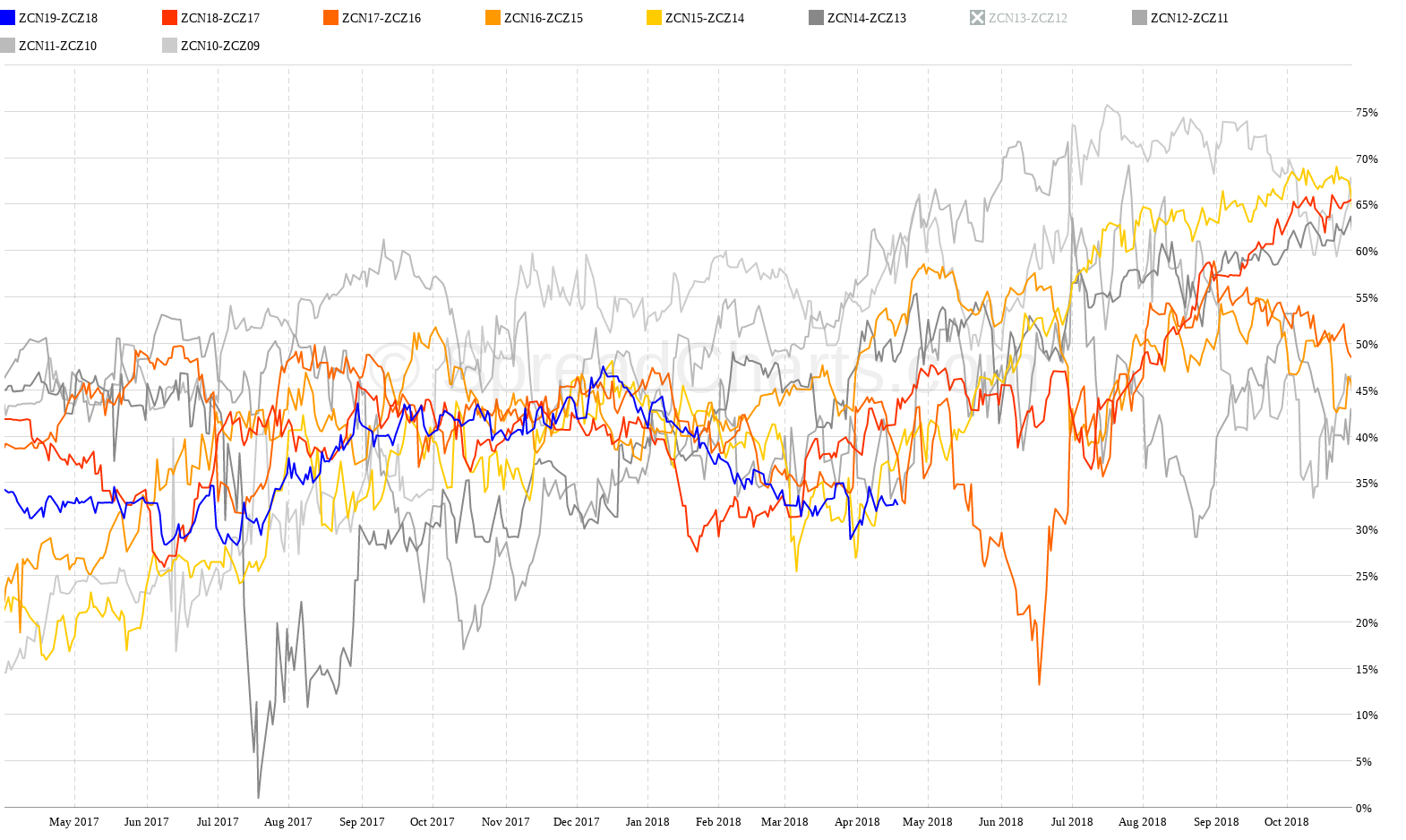 This growing tendency can also be seen on the curve of averages.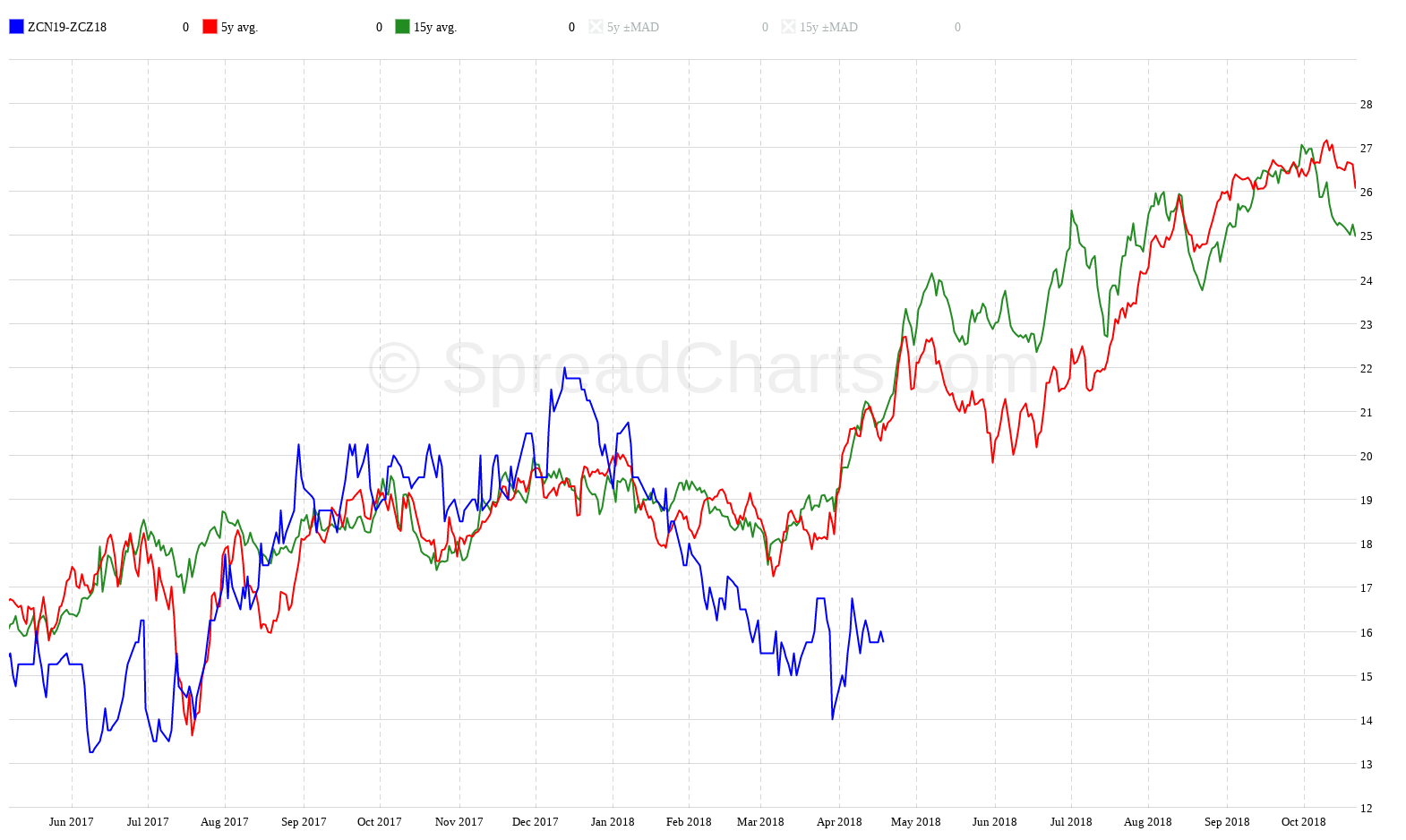 With corn, of course, we have a choice of multiple possible combinations of spreads within one harvest. For example, March-December (currently ZCH19-ZCZ18) or July-March (ZCN19-ZCH19). These are narrower spreads with usually a lower risk.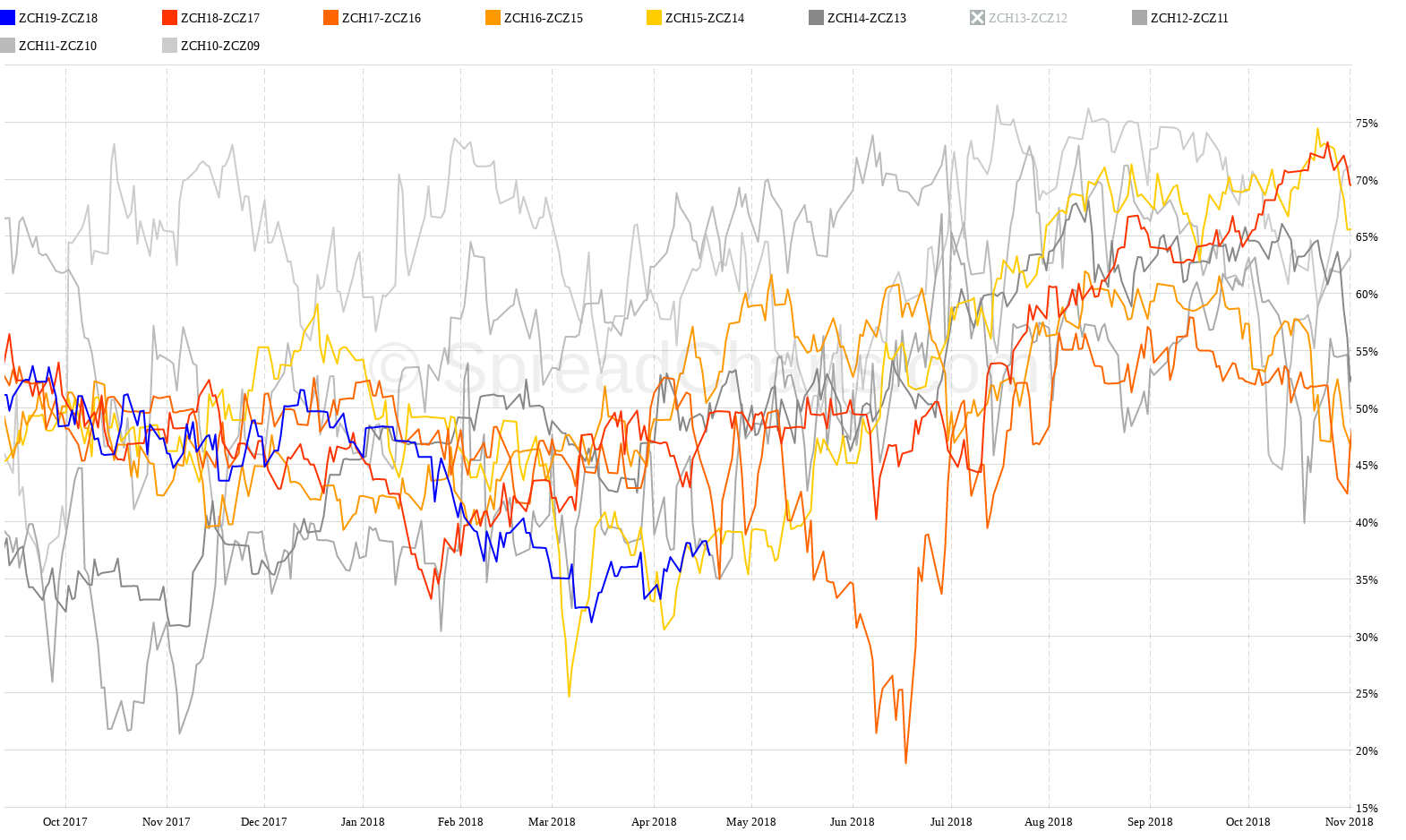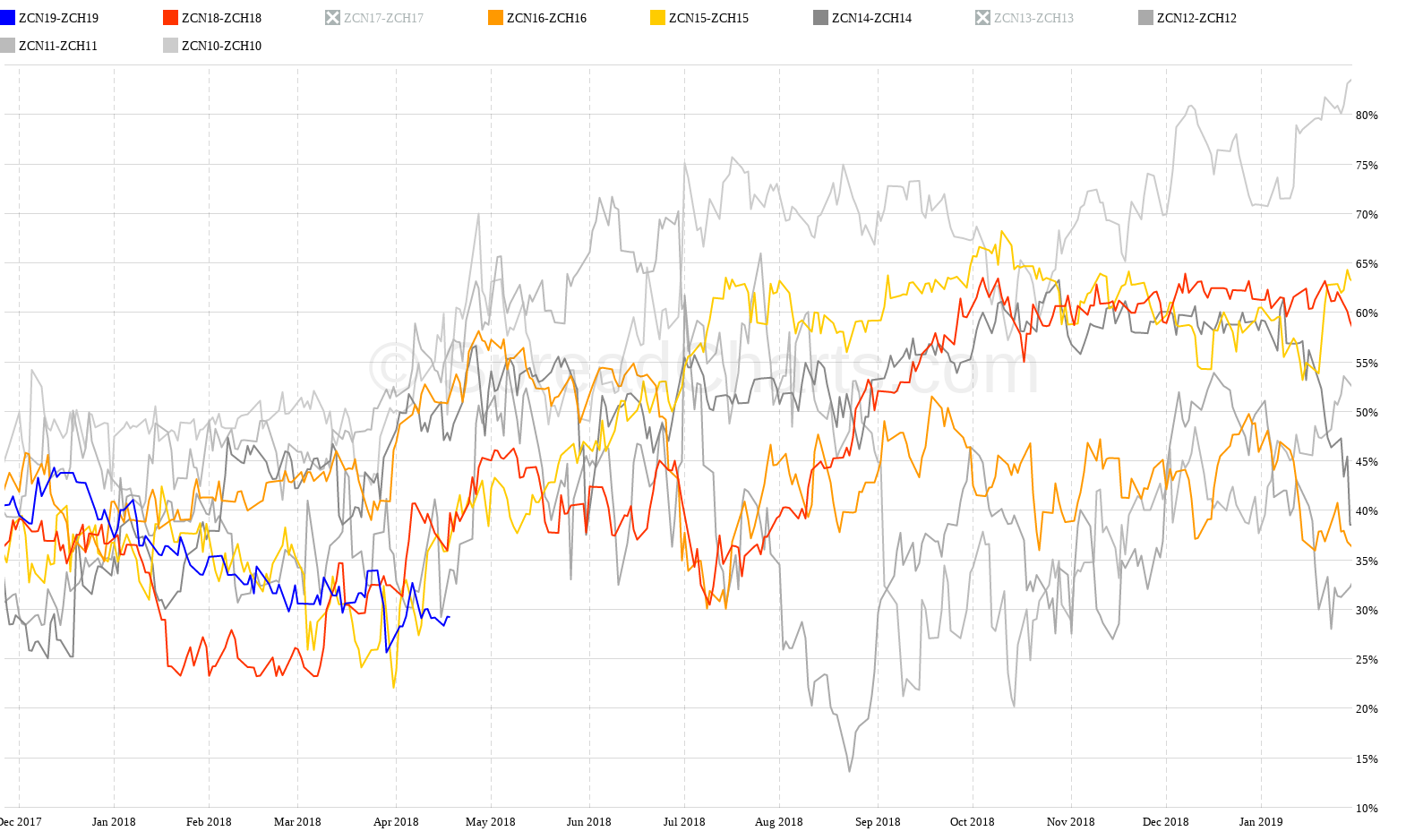 What's next?
Today I went more to seasonality. It is undoubtedly an inseparable part of trading commodity spreads. But it is very important to use seasonality correctly. And we'll look at it next time.