I have made the portfolio adjustment a couple of days ago. I have decided to close whole position on bear spread ZLH18-ZLZ17 (soybean oil). I'll explain why and what are my future plans.
COT analysis
The main reason was a relatively significant change of the sentiment within a group of large speculators. The COT index of positions has dropped significantly below 0.3 and I think it's rather neutral now. In the past, we could also find the situation where there was at least a short growth correction at this level.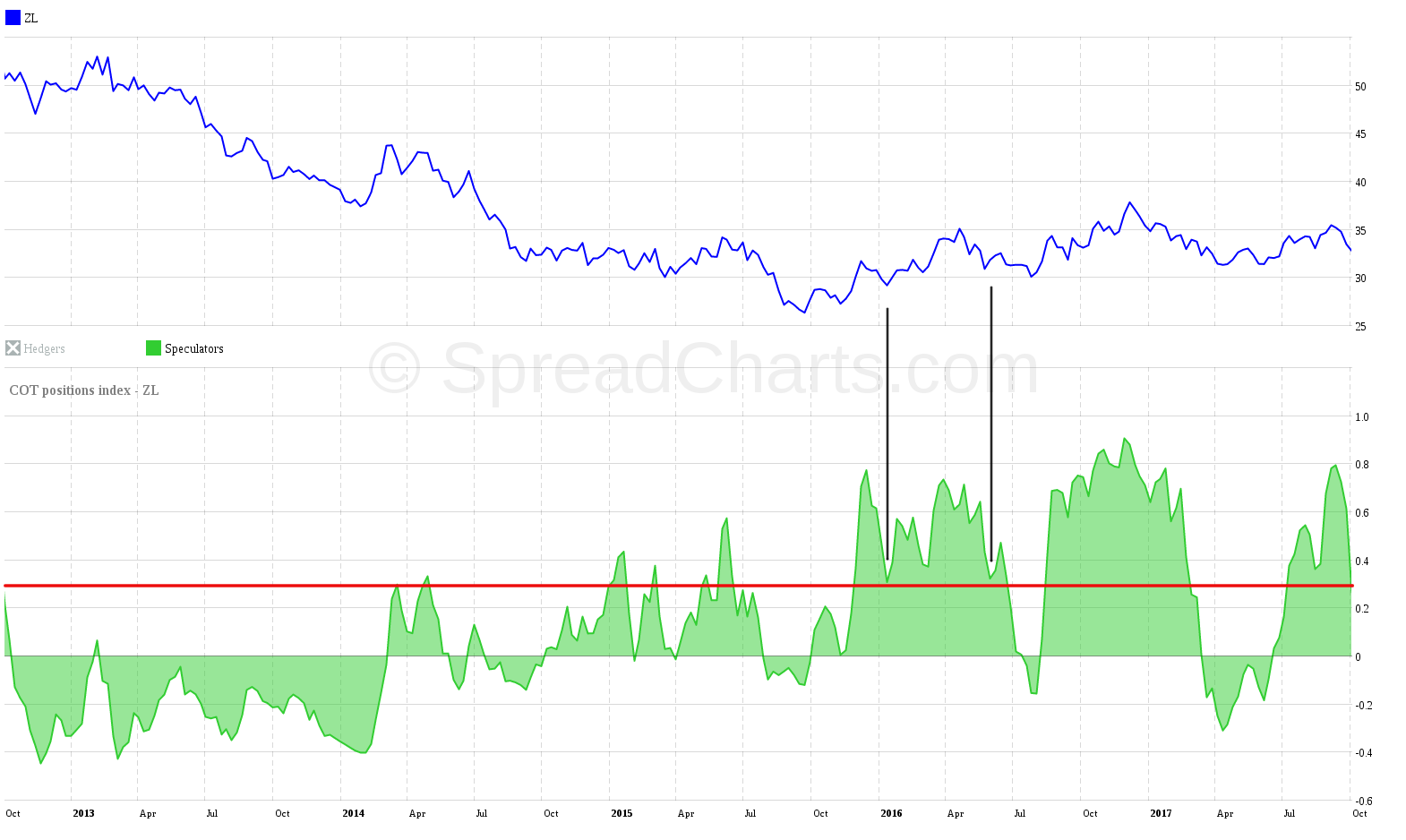 Even bigger change can be found within the second COT indicator –traders index, which is based on the number of traders going long or short. We have got into a slightly oversold territory here.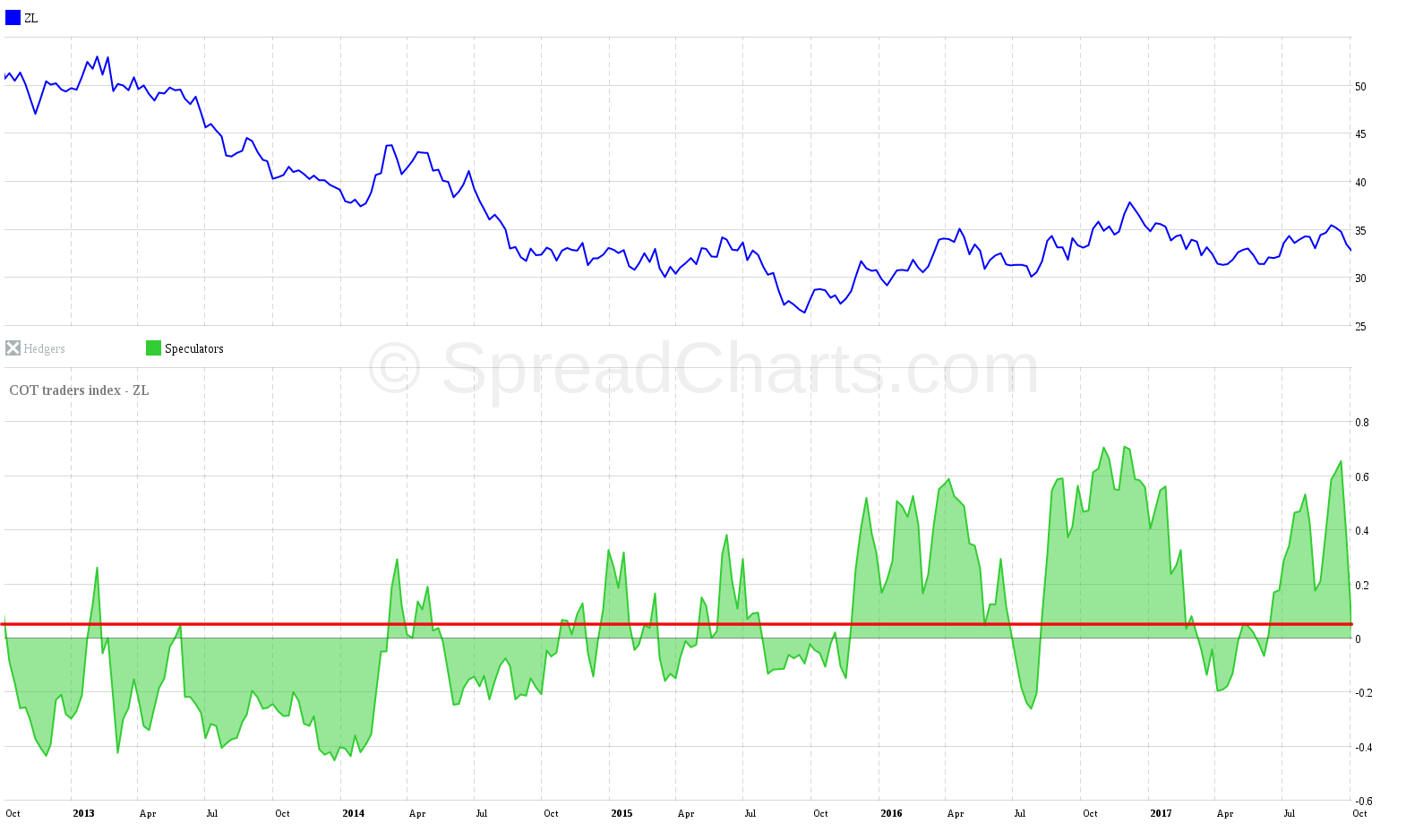 Technical analysis
In long-term perspective, soybean oil moves in downtrend. Therefore, the current mood in the market does not necessarily mean the change to the uptrend. This can only be a short-term growth correction or consolidation, after which the price will continue to decline. The price is still quite far from the strong support level at 30 cents and then at 26 cents.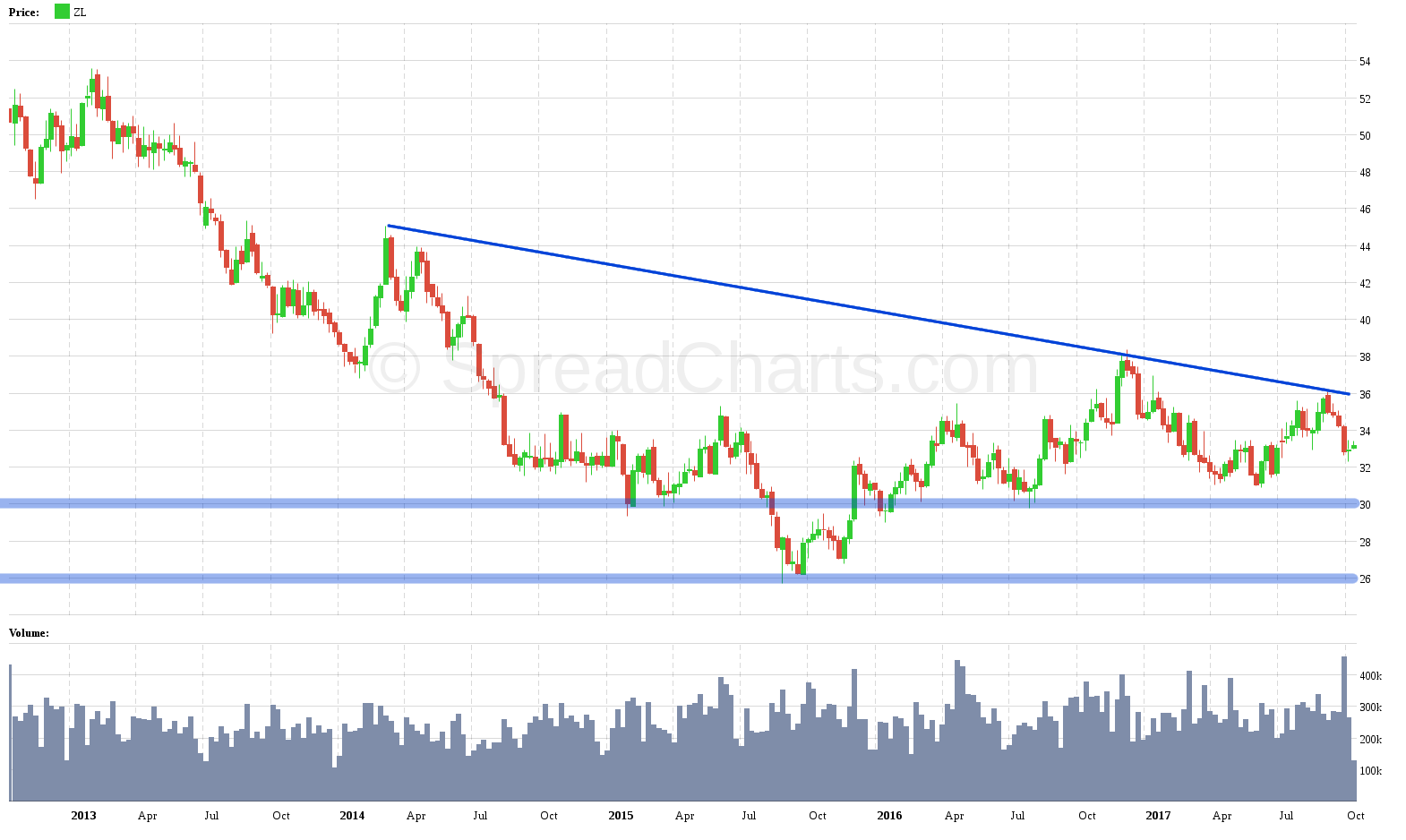 It is nothing terrible in terms of technical analysis. In the case of the soybean market, it is often enough when the price moves sidewise or even slightly grows. This is what I wrote in the Spread report. Despite that, I decided to get out …
Full carry
There was another signal to step out – Full Carry Analysis. Spread is still very cheap compare to other years, but pleasant spread period with tendency to grow is about to be finished. it is more likely to move sideways or even slightly decline in the upcoming weeks.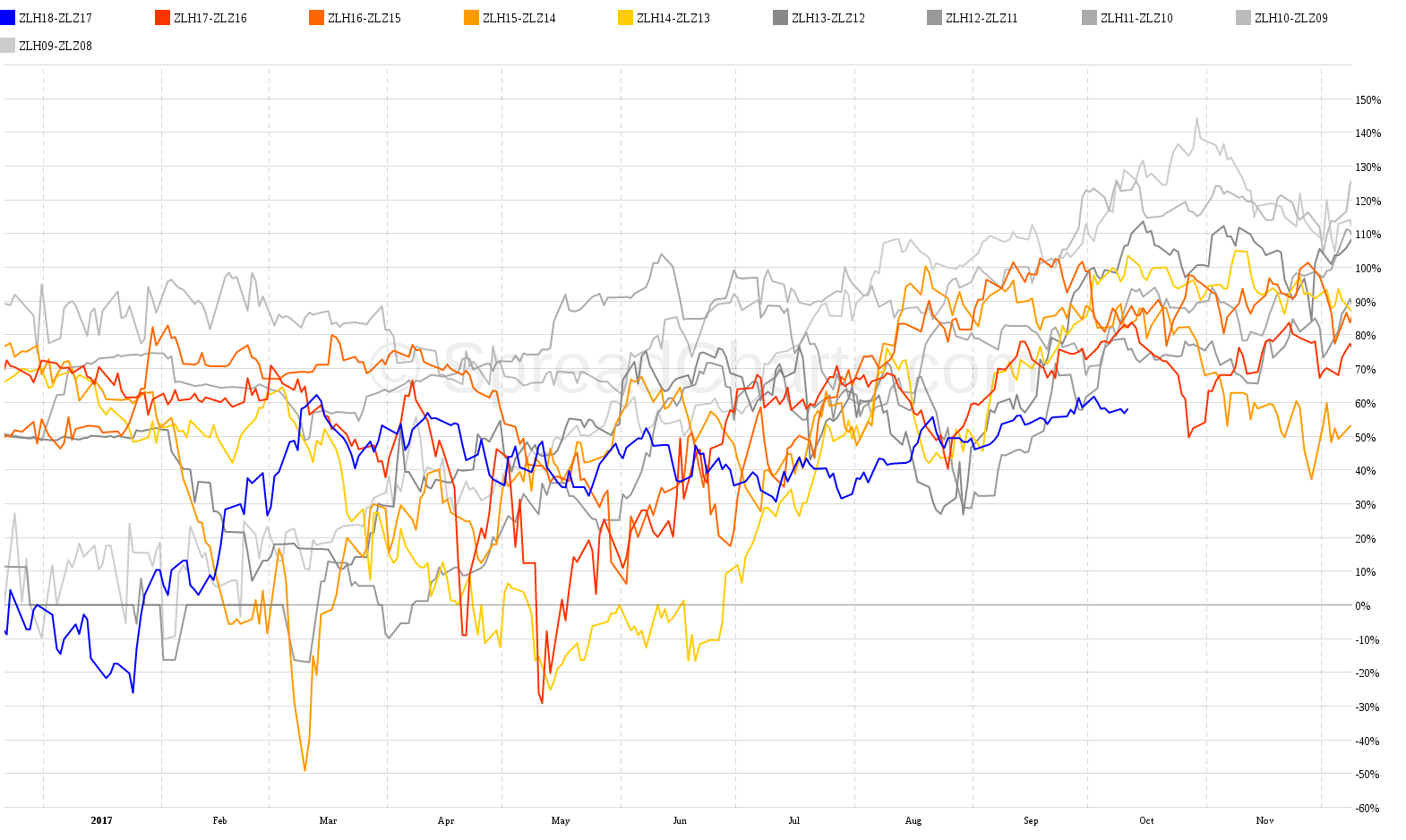 Similarly, we can see it on the curves of average values, which are slightly declining towards the expiration of the spread. In addition, the potential problems of the following period are highlighted by the scattering rate over the past 5 years, which is visible throughout the red channel around the curve, which is also moderately decreasing.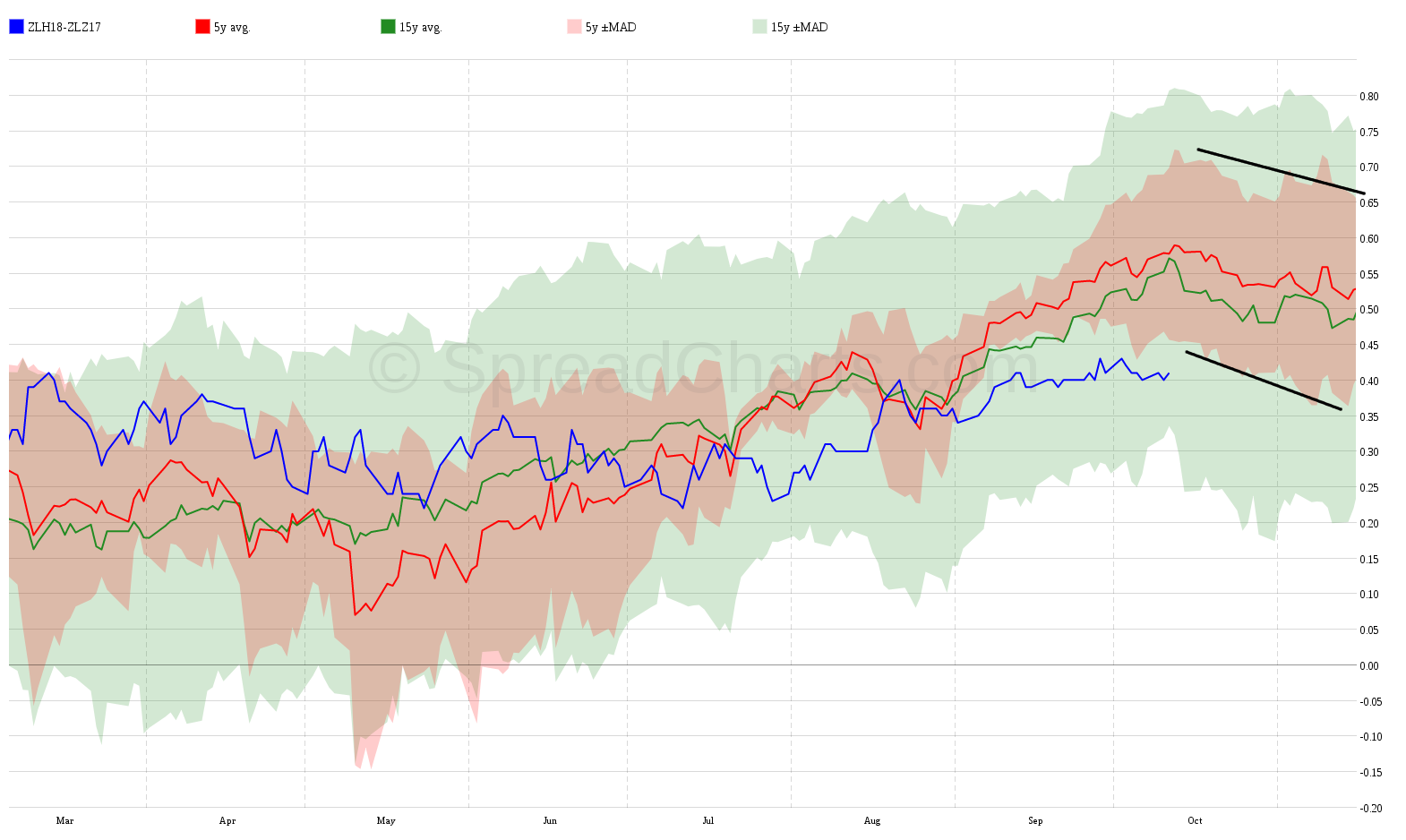 Result
PROFIT: 300 USD / 4 contracts
RRR: 1: 1.4

It is true that I was expecting more based on its development in previous years. But despite that, I'm happy. This trade was very quiet, so I have another cool spread trade with a profit behind:)
A new adept?
A new adept?
This opportunity is still opened. I am thinking about the more distant bear spread ZLN18-ZLH18, which can still make out something from the strong contango. Full Carry indicates, that spread is not as cheap as in the case of closer bear spread. It will be better for me if the blue curve (actual year) drops closer to 30%.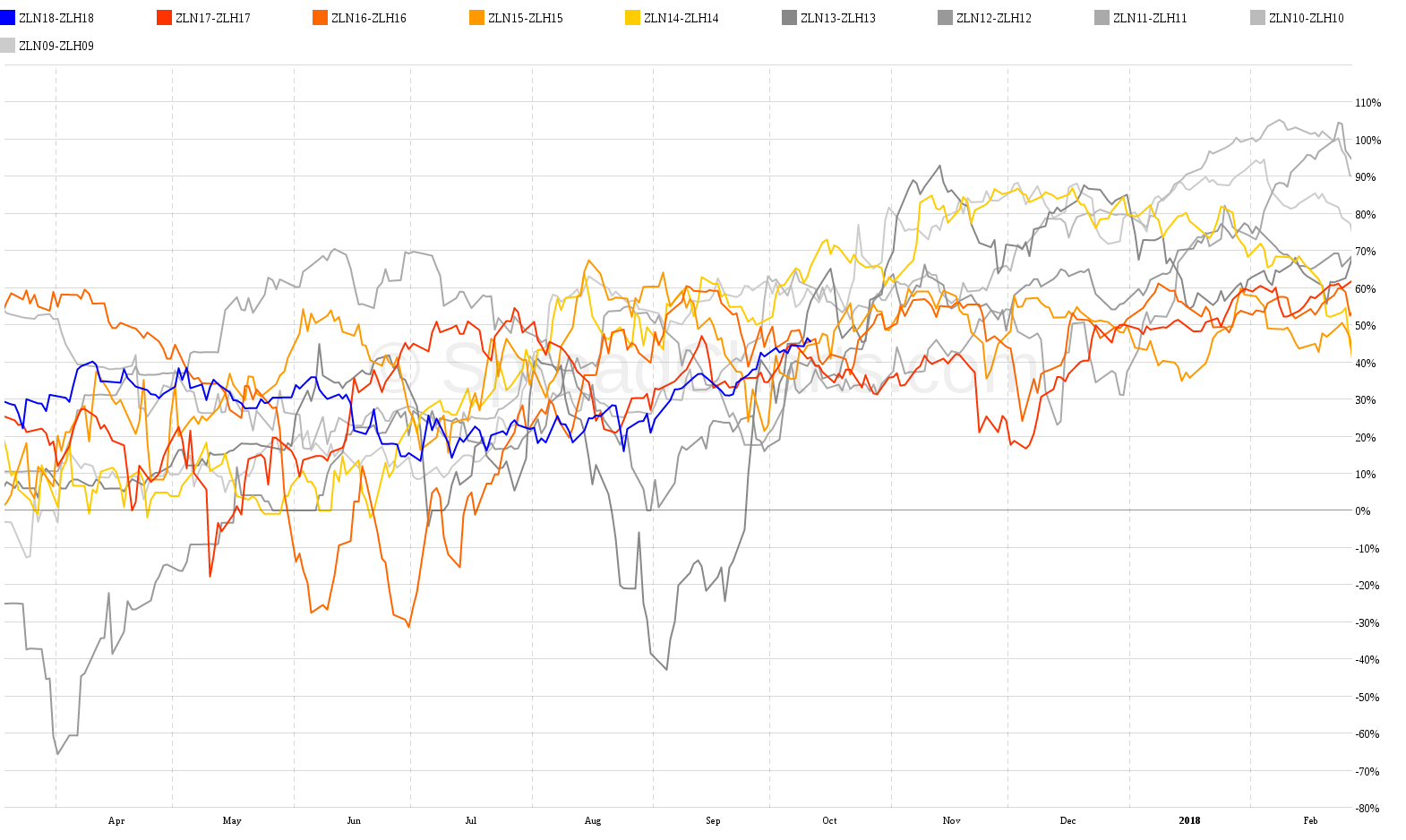 In connection with the current COT analysis, soybean oil is no longer so interesting for me. That's why I'm waiting for further development. If the correction occurs, I might open small position.
Despite the fact that I've tear down a bit of my portfolio, I still consider it as strong one. My intermarket position is preserved, ie. the bull spread is standing against the bear spread, both positions are relating to each other(see the last article). Meanwhile, both positions are developing as expected. You can find a detailed analysis in the video of the last spread report here.