I prepared for you the description of the strategy that has been successfully running over the last 21 months on real forex account. I will show how it looks, how it trades, what are its profits, and what distinguishes it from strategies that are not profitable.
Risk management
In general, I trade strategies with a lower risk. My goal is to achieve 4% profit per strategy and year, but at the same time, I have also other strategies. It's similar to stocks – you also do not put all the eggs in one basket. I'm doing the same with forex strategies. Of course, you can set the risks as you want and target for more percent, this is individual.
The strategy has made a profit of 12% in 21 months, so the goal has been achieved more than I have requested. Here's its equity: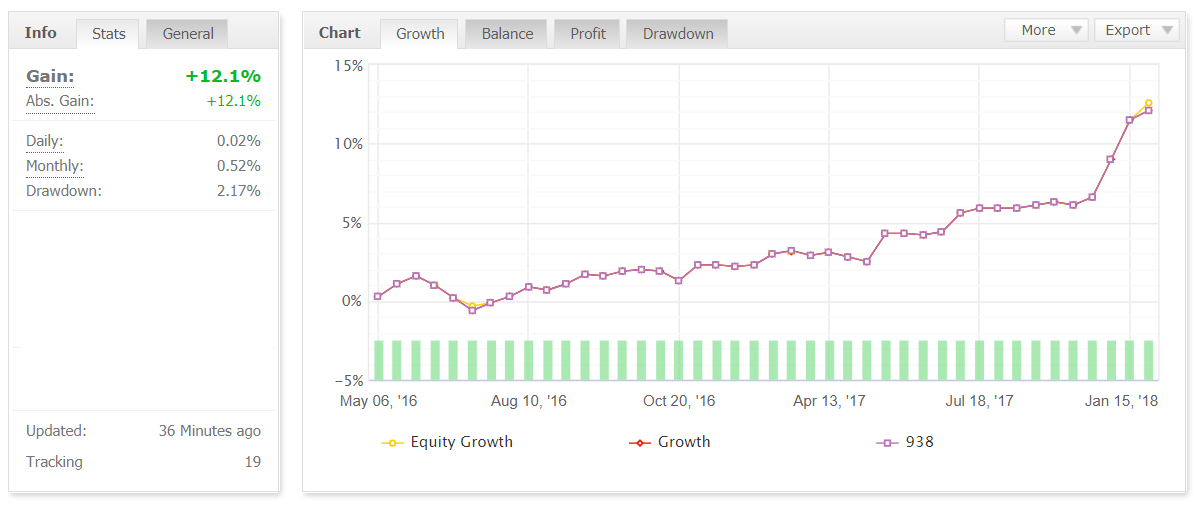 The maximum drawdown was 2.17%, if I would like to, I could set the strategy for 10 times bigger position and aim for 10 times higher profit. But I prefer 10 times higher number of different strategies. However, it is up to everyone to make his decision.
The principle of the strategy
The strategy is for EURUSD H1 and it is, in principle, very simple. It is the breakout strategy, ie it penetrates through certain values and uses only two indicators – a special type of moving average + volatility deviation where the non-standard indicator is also used.
Money management has fixed stop loss 150 pips and profit target 244 pips. Trailing stop is based on volatility.
Most trades were closed on trailing stop loss:
The whole history of the strategy: 434 trades
1 trade was on stop loss
9 trades on profit target
424 trades were closed on trailing stop loss
The strategy is working with volatility which is adapting it to the real market situation and positively influences its results.
Strategy building process
We did not build the strategy manually, it was built in StrategyQuant program, I have been working with exclusively for the past 5 years.
StrategyQuant is specifically designed software that searches automatically for strategies based on specified parameters such as market, timeframe, etc. Interesting strategies are then stored in the database and in the next tests we work with them. Based on tests, we measure robustness, or quality of the strategy and other parameters.
Quality (robustness) of strategies
In the next articles, I'll show you how robust this strategy is, on how long data it works, etc. We'll focus on:
Long-term edge – what it is and whether this strategy has it
How it works in other markets
The sensitivity of the strategy to different market situations, such as how it responds, for example, to a change in volatility
In this article, I showed you the strategy, its results, and the basic principle. In the next one, we will go more into the details, and compare it with a strategy that is not so good and I will show you the differences.
More tips on how to build profitable automated strategies can be found in the e-book under this article.