You are often asking us about how to install Strategy Quant under Linux. And if it is possible at all. In the current version 3.8.2 it is not possible natively, so first, we will need to install Wine.
In today's tutorial I would like to show you how to install SQ for Debian distribution.
Let's start. What are we going to need?
A computer with a Debian Jessie distribution installed
SQ installation package, that can be downloaded from www.strategyquant.com
SQ license
If you are going to install SQ for Linux, please write us email first at: support (at) strategyquant.com and we will activate your license, so it works also under Linux.
Wine installation:
Run the command line, switch to root user with the command and enter the password:
su –
password:
First, we have to allow the installation of the 32-bit packages:
dpkg –add-architecture i386
Then we add the key for wine repository:
wget -nc https://dl.winehq.org/wine-builds/Release.key
apt-key add Release.key
We add this repository line to the file /etc/apt/source.list
deb https://dl.winehq.org/wine-builds/debian/ jessie main
We install the support package for installation from the https source using the command:
apt-get install apt-transport-https
Then, we update the package list from the repository and run the command:
apt-get update
then we install Wine using this command:
apt-get install –install-recommends winehq-stable
after Wine installation, we need to configure the Wine and run it with the command:
winecfg
after running this command, the pop up window will appear with the message that there are missing additional packages, that has to be installed, so click to download and install them.
Once the winecfg starts, set the emulation for Windows 7, as you can see on the printscreen: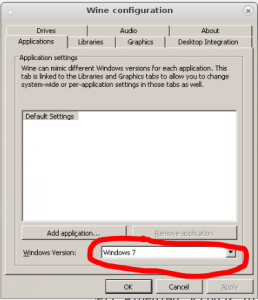 Download the SQ installation package and run the installation. Here it will be similar to the Windows, please see the screenshot: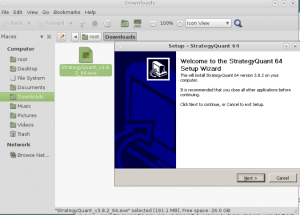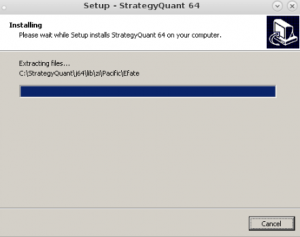 After the successful installation, we can run SQ and enter the license key, confirm the license key and press the button to verify the license, and then SQ will start on our screen: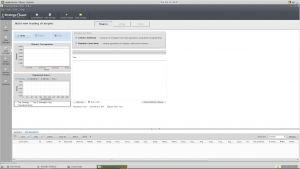 If you need to install the Tick Downloader, you will install it as the SQ, according to these instructions and it should not be any problem with it;). If you want to install StrategyQuant on Mac OSX, the procedure will be similar. First, you need to install the Wine Emulator and then SQ. The Wine Installation Guideline for Mac OSX can be found at the project official website.