In the last article, we have talked about 3 steps that are important for building quality strategies. In the next articles, we will have a look at them in details, and today we will start with the data.
What kind of data do we need? Why are the MT4 data not the best choice and where to get quality data? We will answer all this today.
What data do we need?
What is the most important, the data must have its quality and be accurate. Therefore, it must match with the past movements of the price and faithfully copy it. Therefore, we need a trusted source.
The data must be accurate, and this kind of data can be divided into two categories – tick data and a specific timeframe data. Tick ​​data records every movement that has occurred on the market. Tick ​​data are represented by huge data sets and we do not need them for most strategies. Usually, we need data with M1 accuracy. These are data from the second category – a specific timeframe. M1 data includes minimum, maximum, opening and closing price per minute (so-called OHLC data). Such data are sufficiently accurate for backtest, of course, if they are of a good quality.
Why the mt4 data are not the best choice?
Most beginners assume that historical data in a metatrader belongs to a particular broker. Unfortunately, it is not true. The data in the MT4 are directly from the MT4 and unfortunately contain many errors. Backtesting is very inaccurate. We can even notice this in the backtest. We can see "modeling quality" in the report, and we usually see numbers like 25.96% or even N / A, this means that the quality was not found. In MT4 anything less than 90% is wrong. Ideal is 99%, but we can only get such quality by importing tick data through a special plugin and then the whole backtest is very slow. I have once tested it, and I remember that testing one strategy lasted minutes or even hours.
An 99% report looks like this: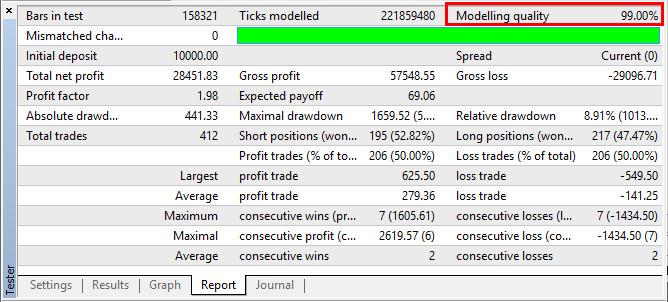 Where to get a good data?
Surely, you're wondering where to get accurate and quality data. Luckily, it's not that difficult. Using tick downloader (free download here),  you can download tick data for forex and precious metals for free. You can also export them to the M1 format. The data are provided by the Dukascopy broker and their history is up to 2003 (depending on the market). Dukascopy also offers data for indices such as DAX, S & P500, etc. However, quality is not the best and the history is short. If you want to build strategies for indices, I recommend Futures data, but these are unfortunately relatively expensive and cannot be obtained for free. However, for forex and precious metals these are very good and you can use them without being worried.